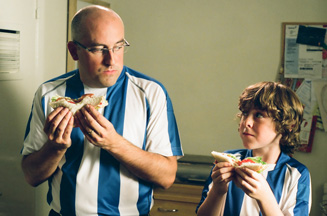 Associated British Foods is investing £11m in a 12-month campaign that includes a series of three TV commercials. They show the lengths people will go to enjoy a Kingsmill sandwich. Each ad ends with the call to action 'Share your Confession', inviting viewers to visit www.kingsmillconfessions.com.
The ad, created by M&C Saatchi, breaks 14 September.
Kingsmill Marketing Controller says: 'Kingsmill is about celebrating the pleasure of bread through taste, enjoyment and shared family moments.'
The campaign will extend to radio, in-store, POS and on-pack.
In one of the TV ads, a woman makes a sandwich and leaves the room. A father and son return from football practice, eat the sandwich and toss the crusts in the dog's basket. The innocent dog is banished to the garden and the father's voiceover admits, 'I shouldn't have let him take the blame'.