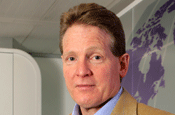 McPherson is leaving the WPP network nine years after joining from an equivalent role at Carat International.

He said that he had several options on the table but would not be moving to a direct rival of MindShare.

Despite McPherson's departure MindShare has been investing recently in a stronger worldwide resource.

It recently appointed its managing partner on the HSBC business, Ailsa Lochrie, to the role of worldwide marketing director.

Last year MindShare lost international business including Samsung and Mattel. However, it fought back with the capture of the £175 million LG Electronics brief.