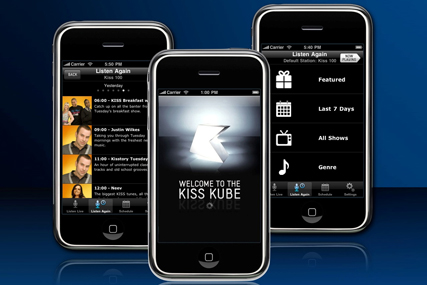 IPods with a built in FM radio will show the title and artist of songs playing on Kiss 100 and Magic 105.4. Listeners will be able to "tag" songs to buy the next time the iPod is docked into its home computer.
Martyn Humphreys, head of broadcast systems for London and southern England at Bauer Media, said enabling listeners to tag the tracks Kiss and Magic play and purchase them later via iTunes will add that "little extra something to the listening experience".
Bauer Media revealed this week that the Kiss Kube iPhone application, which re-launched at the end of last year, has been downloaded 100,000 times.
Steve Parkinson, managing director of London Radio, said Kiss 100 and Magic 105.4 have "evolved their listener offering to reflect the way music is consumed in 2010". He said the Bauer strategy is to keep "London listeners tuned-in wherever they are and whenever they want us".
In November Absolute Radio was the first European station to launch iTunes tagging software.
As part of the joint industry initiative, Radio DNS, the radio industry is also working on technology that will allow listeners tuning into the radio to tag songs, ads, news stories or comments they would like to return to later.
The DNS software is different to iPod tagging because it offers more flexibility to radio stations and consumers, allowing listeners to do more than simply buy tracks.