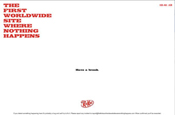 Rather than reams of text, images, tabs, video content and flash animation, the site www.thefirstworldwidewebsitewerenothinghappens.com simply carries the text "The first worldwide site where nothing happens" along with the "Have a break" strapline.

However, if users spend long enough on the site, they might spot things happening, such as a bug flying across the screen.

Small print at the bottom of the site explains that if users spot anything actually happening on the site they should report it, and an e-mail address is provided for consumers to communicate any of these "bugs".