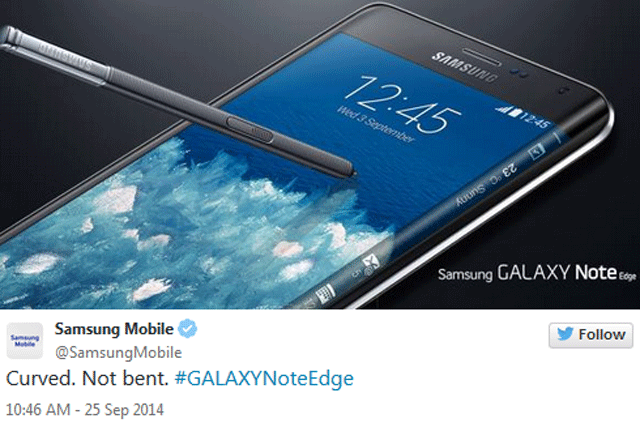 Using the trending hashtag #bendgate the Nestle brand posted a picture of a KitKat breaking in two with the caption "We don't bend, we break".
The picture mocks news about Apple's new iPhone6, which has been heavily criticised by customers for bending.
We don't bend, we #break. #bendgate #iPhone6plus pic.twitter.com/uippCg4kCi

— KITKAT (@KITKAT) September 24, 2014
Currently KitKat's post, which was created by JWT London, has had more than 22,000 retweets and just over 10,000 favourites.
By comparison, Samsung's sly dig at Apple, "Curved. Not bent" tweet with a picture of the Galaxy Note Edge has been retweeted fewer than 9,000 times and favourited 5,000 times.
Curved. Not bent. #GALAXYNoteEdge pic.twitter.com/OTPIYlI07f

— Samsung Mobile (@SamsungMobile) September 25, 2014
The KitKat tweet has also outshone the highly regarded "dunk in the dark" tweet posted by Oreo during the Superbowl power outage, which to date has less than 16,000 retweets and 6,500 favourites.
Power out? No problem. pic.twitter.com/dnQ7pOgC

— Oreo Cookie (@Oreo) February 4, 2013