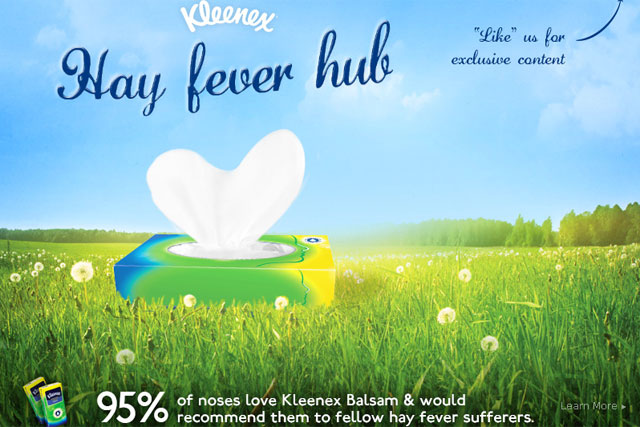 The Facebook game has been created by We Are Social and Kleenex claims it is the first that can be played and shared in a user's newsfeed.
Players have to empty a box of tissues as quickly as possible and are able to share their scores in their newsfeed. Friends can compete by playing the game in their newsfeed, rather than having to visit the Kleenex fanpage.
It will also be running a competition to win hay fever care kits and other prizes from its Facebook page, as well as expert tips on how to beat the symptoms.
The Facebook activity forms part of a wider campaign, which includes experiential activity, radio sponsorship on Capital FM and Heart FM, with media planning handled by Mindshare.
Kleenex rolled out a similar social media campaign, to provide hay fever sufferers with expert medical advice via Facebook and Twitter, last year.
In October last year, Kleenex enlisted impressionist Ronnie Ancona, to provide cold and flu sufferers with supportive messages in the style of Audrey Hepburn and other celebrities, via a spoof helpline.
Follow Sarah Shearman on Twitter @Shearmans