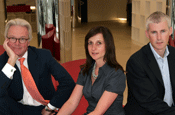 Will Orr, the managing director of WCRS, will now take the chief executive role at the advertising agency.
Klein, who also becomes the chairman of WCRS, will share her Engine role with Peter Scott, the joint chief executive and chairman of the group.

The reshuffle also sees Robin Wight, the joint chairman of Engine, become the president of both companies.

Orr, who has been filling Klein's role while she was on maternity leave, will continue to handle the day-to-day running of WCRS.

Klein said: "Will has the confidence of the clients and the staff, and is very receptive to good creative. His brief while I was away was to guide the ship, but he's done much more than that."

Klein will now take responsibility, along with Scott, for overseeing further growth of the group, as well as ensuring that its existing companies work together.

Her appointment has been made after a year-long period that has seen the business buy six companies, including February's £18 million acquisition of the direct marketing agency Partners Andrews Aldridge.

Scott said: "Over the past 12 months, Engine has doubled in size. We've grown from six to 12 partner companies; from 300 employees, we are nearly 600; and revenue of £37 million is now in excess of £60 million. I've done the primary building, now we have to make sure it works for clients, and that's where Debbie comes in."

Orr, who worked at WCRS until 2000, rejoined the agency in May 2005 as the managing director from

Mother, where he ran The Observer, Boots and Sky Bet accounts.

Klein joined WCRS in 1997 from Saatchi & Saatchi as a planner. She was promoted to chief executive in 2005.

The appointments come a week after Engine moved into its new offices at 60 Great Portland Street.