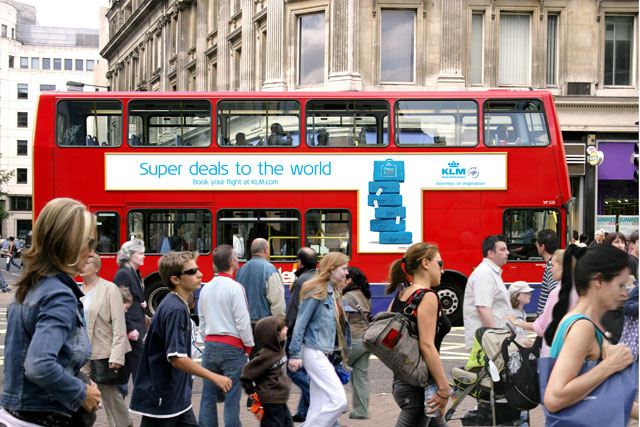 The 'Pack & Go' campaign will run for three weeks across outdoor, press, mobile and digital platforms, using the strapline, "Super deals to the world".
It pushes the airline's popular long-haul destinations, including New York, Rio de Janeiro, Dubai and Johannesburg.
The outdoor work focuses on six UK regions: London, Scotland, Birmingham, Manchester, Newcastle and Bristol. In the capital, 700 London Transport double-decker buses – a third of London's fleet – will carry T-side ads.
The creative drives consumers to KLM.com to book tickets.
Vincent Kas, commercial director at Air France-KLM UK and Ireland, said: "The look and feel of our tactical 'Pack & Go' campaign makes the KLM brand stand out in a hugely competitive market.
"Having a presence on more than one third of London's double deckers will give us high visibility in the critical London market, and the use of mobile banner ads for the first time is particularly relevant for the frequent-flyer market."
In May, KLM launched a nine-month marketing drive targeting its UK consumer base, with the aim of driving engagement with the brand online, with a series of films called 'The travel diaries'.
Follow @loullamae_es