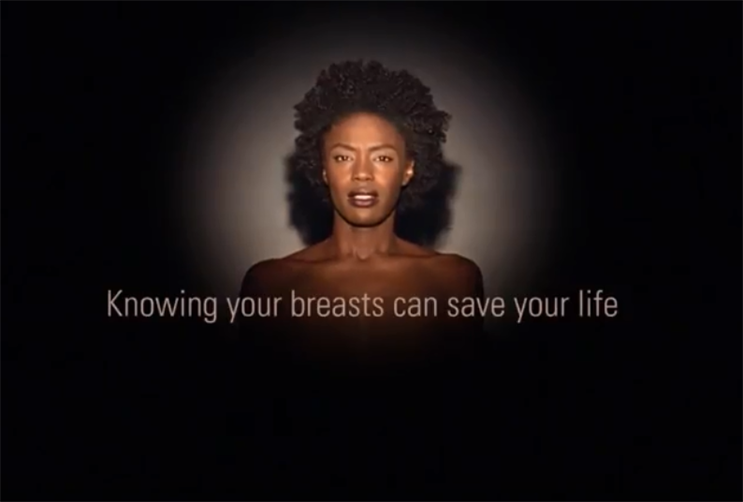 Black women in America face overwhelming health disparities. They are three times more likely than white women to die during or after childbirth, often because the medical establishment dismisses their concerns. Nearly 50 percent over the age of 20 have heart disease. And they are 40 percent more likely than white women to die of breast cancer.
That last alarming statistic is in the crosshairs of a new campaign from the Ad Council and the Susan G. Komen Foundation that hopes to save black women's lives. "Know Your Girls" is a comprehensive, fully-integrated push with creative from Translation, set to Alicia Keys' classic "You Don't Know My Name" with voiceover from Coming to America star and breast cancer survivor Vanessa Bell Calloway.
"It's more than just a health issue - it's a social justice issue," said Shyrea Thompson, senior director of strategic initiatives at SGK. "This is an opportunity to address black women in an authentic voice that sounds like black women. Breast cancer in our community is a different experience."
Because the subject matter is so specific, "Know Your Girls" is also a very different campaign from anything either group has done previously. Breast cancer was the subject of just one other Ad Council campaign, in the mid-1990s, and, as Thompson admitted, "Let's be real – when you think 'Susan G. Komen' you don't necessarily think of African-American women."
To reach that audience, an attempt marketers so often butcher, the campaign's creators focused significant energy and resources on developing an authentic message. SGK already has a deep knowledge base on black women's health disparities, and the Ad Council undertook its own research and tracking study to establish benchmarks for measuring the campaign's impact. What they found, said Ad Council Head of Campaign Development Heidi Arthur, was sobering.
"We heard that over 90 percent of black women agree breast health is important, but only 25 percent have discussed with their family, and less than 20 percent have actually taken steps to understand their risk," she said. It also became clear that the disparity came at least partially from "discomfort and misperception around risk. It was something that wasn't part of the conversation."
But there was another side to the coin: research unearthed strengths unique to black women, namely a sense of sisterhood and strong mutual support. These positives became the campaign's message.
"We wanted to position it in a way that would educate and empower women and not scare them," Arthur said. "That empowerment message can make immeasurable difference over time."
To evoke this sisterhood, all the creative for the campaign features multiple women, rather than the familiar breast cancer narrative of a single survivor's journey. To make sure every black woman sees herself in that sisterhood, casting is diverse with respect not just to age but body shape and size, skin tone and hair type – "really showing all the beauty of what black girl magic really is," said Thompson.
The campaign is also about creating its own sisterhood around breast health. In addition to print, OOH, broadcast and digital, "Know Your Girls" marks the launch of multiple dedicated social channels for black women to discuss their own experiences, questions and concerns about breast cancer. To "bring the campaign to life," Thompson added, SGK is co-sponsoring ongoing events that bring breast health into existing community conversations.
"We found a way to talk about what we as African American women do well, which is support our communities and bring our families together," Thompson said. "This isn't a finger wag about doing things wrong or yet another thing we of die more often. We're saying that if you're taking time to take care of everybody else, make sure you're also putting yourself on that list."