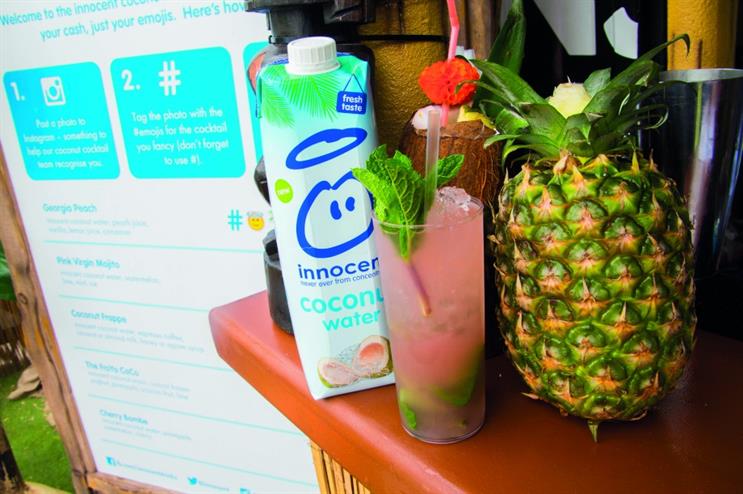 Head into central London at any weekend and you are bound to stumble upon a food-related pop-up or new gourmet burger restaurant. Being a 'foodie' has now become a way of life for some, and social media sites are peppered with images of people's dinners out or culinary creations. But with choice around every corner, how do food brands stand out when it comes to experiential marketing?
Don Williams, chief commercial officer at global brand agency Pi Global, says that with the exponential rise in marketing and communication channels, "how brands achieve salient cut-through in this chaos is the six-million-dollar question".
Williams explains that while experiential marketing is designed to create a brand connection with the consumer by giving them a memorable experience, "building ever more innovative and funky ways of doing that is a challenge. The biggest element is making sure there's a connection between the experience and the brand".
This, he adds, is easier if you have a brand with a strong personality, such as Red Bull, for instance. "In food you can't necessarily rely on the brand personality to shine through the experience, simply because there aren't that many food brands with massive, almost tangible, personalities.
You need to be careful that the brand isn't lost in the activity," Williams warns.
Appeal to the senses
Williams adds that research has shown close to 50 per cent of consumers are more likely to purchase if they can try first. "So creating experiences that intrinsically link the brand to the taste, texture, smell and pleasure of the product is vital," he says. "Just like advertising, if the consumer remembers the entertainment but not the brand, someone's wasting their money."
Alex Smith, planning director at agency Sense, says sampling is only effective if a brand is very differentiated. "If it's just another white sliced bread, it's not going to work," he cautions. "Food brands often have more difficulty marketing themselves than brands in other sectors, simply because most of them don't invent a completely new category or product."
In addition to this, not all brands have built up a 'character' that makes people care about them. So how can these brands market themselves?
"They need to give a reason to be chosen," says Smith. Where these firms get it right in an experiential sense, he says, citing healthy drinks brand Innocent as an example, is by creating 'events' that people feel they are helping to fund, rather than just buying the product.
"Most companies carry out marketing to sell products. However, with these brands it feels like they sell products to fund the activities they really want to do. Would you rather your money was going only into the pockets of shareholders, or into a brand where, for example, a tree will be planted as a result of your purchase?" he asks.
"Experiential is an opportunity for brands to market in such a way that by buying their product, you feel you are contributing to something," Smith adds. "Most food brands act like they are differentiated, but in the consumers' eyes they are not. The tangible nature of experiential gives companies opportunities to offset this."
Challenges and opportunities
Now, more than ever, millennials are taking care about what they eat and paying more for food, believes Maxwell Fellows, head of business development at TBA.
"Activating to this demographic, however, presents challenges, including the need to be original and unique in a fast-evolving sector, as well as ensuring any activity maximises hands-on engagement and, as a result, develops brand loyalty," he says. "It is also important to incorporate technology into all activities to aid social amplification, as well as enabling the brand and agency to track their success."
But there are also wider pressures felt by food brands. Lucy Montgomery, account director at Amplify, says today's health-conscious society and the government spotlight on heathy eating means food brands need to adopt a new approach to marketing in order to stay relevant to consumers, and to build brand loyalty.
"We need to get people to engage with food in a different way, to think about what they're eating and how it's made. Experiential marketing offers the perfect platform for brand education and storytelling," she says.
"By using taste-trial experiences and 'from source to product' stories, brands can help to drive consideration and purchase. And in providing memorable experiences we create shareable content for consumers to spread across their social networks."
Montgomery explains that due to the fact that food and lifestyle are so intertwined, it is essential for brands to reach people in their 'moment of need' and to add value to, rather than interrupt, daily lives.
She says that, for example, by taking Wagamama's reputation for fresh food and fast service into a festival space and incorporating music and art, the agency was able to present these brand features in a credible and relevant way.
"Through targeting people in this 'need-state' we can create opportunities to build product into their daily or weekly repertoire and create brand loyalists of the future," she says.
Tying it all together
Pop-ups, farmers' markets, street feasts and urban food festivals have been rising in popularity, says Fellows. "On one side you have the good food, great ingredients and competitive pricing that drives interaction and attendance. On the other side you have bigger budgets, a sound PR strategy and a through-the-line campaign to tie it all up."
He cites Kellogg's Tweet Shop as a great example of this: "It was one of the first of its kind and gained huge media coverage and excitement. The pop-up asked millennials to trade social interaction in exchange for free product, which previously would have been sampled for free. By doing this it encouraged them to become brand advocates by promoting Kellogg's within their own network through choice."
Other recent examples include Magnum's customisation pop-up and Marmite's 'pay-by-sentiment' cafe for lovers and haters, he says. Marmite in particular has grown its brand loyalty not through a one-off activation but through consistently driving its messaging across all mediums, in what some might say are controversial but always well thought-through campaigns.
Sally Durcan, managing director at Hotcow, believes drinks brands are doing innovative thinking with experiential and many food brands need to catch up. "Experiential vending machines have been a popular mechanic, giving people a sample of the product if they do something in return, and ultimately giving the brand interesting content to share with more people online," she says.
"Delites, a savoury box snack in Australia, used vending machines to test the lengths to which the public would go to get a free box, such as pressing a button 1,000 times," continues Durcan. "And each time a new flavour or version came out they would release another video that matched the flavour of the brand. This was hugely successful and put Delites' name on the map."
She notes that the challenge for companies is not to follow the herd, but to do something that is unique to the brand, in order to stand out among the crowd - a challenge that is sure to remain.
Comment below to let us know what you think.
For more in-depth and print-only features, showcases and interviews with world-leading brands, don't miss the next issue of Event magazine by subscribing here.