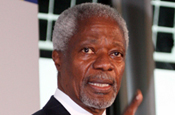 He will join David Jones, the global chief executive of Havas Worldwide and chief executive of Euro RSCG Worldwide, in a debate about climate change and how the creative community can tackle the problem.

The debate will be chaired by Herve de Clerck, the chief executive of ACT Responsible, a non-profit initiative that aims to show the positive role of advertising on today's social and environmental issues.

In June 2008 ACT Responsible started working for Annan's Global Humanitarian Forum and together with David Jones, created a dedicated communications team working to raise awareness of human consequences of climate change all over the world.