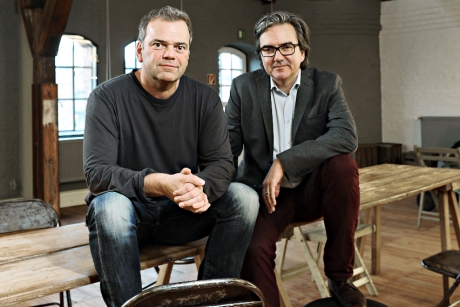 What's the point of the-networkone? To truly understand its value to an agency like ours in Germany, it helps if we start by explaining the irony inherent in this market.
Here we are in a country that is bucking trends and prophecies of doom on the markets. In the second financial crisis in three years, Germany still manages to sustain record growth levels, mainly due to its status as a global leader in exports. Obviously, quality workmanship and meticulous attention to detail still count more than ever. From German machinery and chemical products to cars, chocolate and showerheads, our exports remain in demand the world over.
But - and here lies the irony - when it comes to communicating these brands, the work is normally done in New York, London or Paris. Germany simply has no international ad networks of its own, though the major networks obviously all have offices here. Essentially, there is a dichotomy in this country: we're one of the world's leading exporters, but not in communications. German advertising simply hasn't made it on to the global stage until now.
In the past, experts might have said rightly so, but these days we believe Germany has as much to offer as the advertising heavyweight nations. Not only are we improving, we're also becoming much more independent in our thinking and strategies. And because we can now work as part of an organisation of independents such as thenetworkone, we would argue that we are able to offer clients more than the major networks, given our shared entrepreneurial mindset.
This would seem to make us relevant to many clients. International ad networks with offices in Germany are, slowly but surely, losing ground to the many independents here. Customers are increasingly putting their trust in agencies like ours, run and managed by the people who own them.
The reason is simple. The powerhouses of the German economy are the so-called "hidden champions": smallto medium-sized companies that aren't part of huge, faceless corporations run by shareholders out to maximise profit. On the contrary: most of these companies are family businesses or, at least, owner-managed.
Our clients share these characteristics. The name of the brand and of the person running the company are the same in most cases. We like to think that this is the secret of our success; the fact that we engage our customers as partners at eye level - with the same cultural perspective, background and understanding of what it takes to run a healthy business.
And our entrepreneurial spirit is proven not only in running an ad agency but also by devising, manufacturing and marketing a cosmetics range and a line of deli products.
So, if we look at this situation - world-leading brands and an independent ad agency culture toppling the larger networks from their thrones - it seems obvious that our strength in communications is noticed beyond our domestic market. That is where thenetworkone is a vital link to the outside world and a vital conduit to German ad thinking.
Let's look at one of our customers, Hansgrohe AG. This is a company that manufactures and exports taps and showerheads to many markets around the world. It is an account that would usually be managed by a large global ad network. But it isn't - because there isn't a cultural match between a faceless network and a company run on family tradition. Added to that, global marketing campaigns today demand a deeper cultural understanding of local markets. Local adaptations by someone who has had little to do with the original execution often leave much to be desired.
While it may seem natural for a country such as Holland to serve up to 30 markets, for us in Germany this long-awaited outreach to a more global customer base - and audience - is unusual and a welcome challenge in itself. Hansgrohe now wants the same sort of independent thinking communications strategy we're applying to its domestic business for its global ad campaigns. Enter thenetworkone.
As a worldwide network of independent agencies, we now not only have access to, but are ultimately partners with, independent agencies around the world - something we all stand to profit from. We can now offer our customers global campaigns, tailored to the specific requirements of local markets and based on the same mindset we offer them here.
It's also heartening to track how our own company has changed in its thinking and working. Take Hansgrohe again. If it decides to run a campaign in China, we now have Chinese nationals employed here who do more than just adapt what we have implemented in Germany. Overall, we have employees from 30 nations in the agency. That makes us aware of the idiosynchrasies of each market at a much earlier stage than otherwise. And for the fine-tuning, we can connect with an independent agency in Shanghai to plan and co-ordinate the best possible solution.
As far as our own personal global ambitions are concerned, the products we manufacture are also undergoing a change in outlook. We make and market two ranges: Stop The Water While Using Me organic skincare products and The Deli Garage deli line. When we take to the drawing board, we no longer think about just one market but consider the global market. And it works. The Deli Garage's Food Spray has attracted attention around the world, with the gold food finish going down especially well in the Arab Emirates. The environmentally conscioius cosmetics are now available in hotels around the world.
But for a real success story of how thenetworkone assists to extend our reach to match that of the ad networks, we believe our latest win, Lufthansa, provides a great example. For the rollout of its global campaign, we needed more capacity. By selling the potential to deliver across broadened frontiers via thenetworkone, we won the mandate. And this, we truly believe, could mark the beginning of German advertising finally going global.
We can now engage our partners around the world via thenetworkone to create local executions in their markets, with us as the lead agency and with a wholly different, more entrepreneurial, independent mindset than you'll find in the larger network agencies. In short: not only are we offering each other more opportunities with thenetworkone, but our customers are benefiting too.
Stefan Kolle and Stephan F Rebbe are the founders and managing directors of Kolle Rebbe.
---
AT A GLANCE
Founded
1994
Principals
Stefan Kolle, founder and managing director, creativity; Stephan F Rebbe, founder and managing director, consulting; Andreas Winter-Buerke, managing director,consulting; Ralph Poser, managing director, planning
Staff
284
Locations
Hamburg, Stuttgart
What is the future for pureplay digital agencies?
It will get tighter
Which movie title best describes your agency?
The Straight Story.