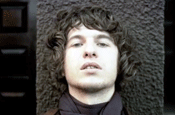 The new album and ad campaign both centre on the studio where the band recorded the album.
The flashing studio sign of the famous Konk studio forms the centrepiece of the album cover and is a recurring motif in the ad campaign.
Online, this has been expanded with video content and jukebox-style banners, where people can listen to embedded MP3 previews of all the tracks on the album.
The ad for the album was initially to be a filmed portrait of the band recording in the studio. The intention was to get an "up close and personal" view of The Kooks, while documenting the band's creative time in the studio.
However, the final TV ad has become a journey following band member Luke walking down the street, then into the apartment above the Konk studio.