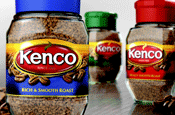 Kraft Foods invited the two agencies to put forward ideas for the coffee brand account after JWT submitted two ideas, which went on to the research stage.
An industry source said Kraft Foods put the business out to pitch after JWT "struggled" to meet the brief.
The brief will review the Mr Makousa character featured in the JWT ads, played by Don Warrington, who played Philip in the 1970s sitcom Rising Damp.
JWT has held the Kenco account for 15 years. However it is not believed that this will be a formal review of the whole Kenco business.
JWT also holds Kraft Foods' Philadelphia and Dairylea accounts. But over the last year, the agency has lost six Kraft brands in the US, including Ritz crackers, Kraft Singles and Lunchables.