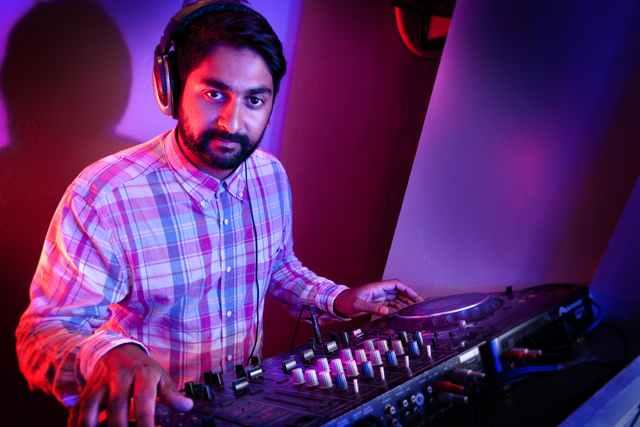 What music do you play?
Everything I play is good to dance to, and there is no specific music policy – think psychedelic soul music of many colours! I've always collected and played music which is both deep and uplifting, and rich in rhythmic detail with melody too. I'll play reggae or acid rock or funk or shimmering pop if that's the right thing to lift up the party or deepen the vibe at that moment. The core of it stems from underground disco and deep jazzy house music.
Why do you do it and how does it make you feel?
Lots of reasons. It's a lot of fun and I enjoy sharing with people. If we can create a bit of space and time where people can come together to enjoy each other's company, then that's something good. I enjoy making people dance, transitioning in and out of different energy levels with me (hopefully) helping them change gears and creating a vibe.
How do you find inspiration for your playlists and discover new material?
The internet definitely helps now! I listen to a lot of mixes and follow my favourite DJs. My social life revolves around going to parties, exploring new sounds and generally being in the company of music aficionados. I try to spend as much time as possible digging for records at my favourite shops (in the UK or abroad) and going to markets in search for those hidden gems.
Do you have a favourite venue?
In the early 2000's I was a regular at Plastic People (old street), Turnmills (Farringdon) and Madame JoJos (…a very long time ago). I also enjoyed dancing at Club Love and Cielo (both in NYC) because of their great sound systems.
I love house and warehouse parties so there is no one venue in London that I now go to regularly - I mainly follow DJs and audiophiles (lover of sound). The kind of sound equipment that you hear in clubs - even really high quality club equipment - is basically designed to deliver maximum power. High quality hi-fi equipment is designed to bring out the detail of the music without wearing out your ears, letting you feel and be touched by the complexity and layering rather than being assaulted by noise. There are a few parties and DJs in London that use this equipment and they also have a similar music sentiment to mine, so it all works out!
What has been your favourite DJ experience and why?
Ibiza, playing at a villa party with my closest friends in the glorious sunshine….all day and night!
Has it helped your career or helped you develop skills/attitudes that have proved helpful?
As with any hobby it allows me to switch off from work and immerse myself in something that I am truly passionate about. It gives me work – life balance and has definitely helped with my patience (eg. saying I don't take requests in a polite way!). I enjoy learning about the social and cultural background of certain genres and how music influences movements, from the early disco and post-punk scenes in New York to the afrobeat and highlife revolution in Africa. All of this provides meaning and background to the art.
---
Krishan Patel is an ambassador for The Biggr Picture and will be judging the entries. He is the digital media director of Interaction at Group M.
For more inspiration and to see more of our judges' Biggr Pictures visit our Flickr 'The Biggr Picture' gallery.