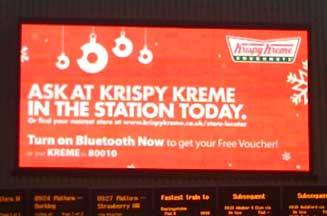 The campaign, created by Blismobile with media planning handled by AdConnection, will run on Transvision electronic screens in London railway stations.
Consumers will be able to use their mobile handsets to download an electronic vou-cher via Bluetooth, which they can redeem in stores. Krispy Kreme is offering consumers 12 free doughnuts as part of its Festive Double Dozen Deal.
The brand will also run ads in newspapers including the Evening Standard and Metro.
Last year, the confectionery brand appointed design consultancy CADA to localise its brand for British consumers.