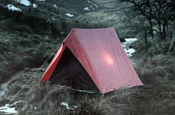 The print ads, featuring a fisher, camper and hiker reposition the brand as the official drink of the great outdoors.

One ad sees a man hunched under an umbrella with a fishing rod. On his bait reads: "I'm not sleeping. It's just a trick I play on the fish."

Another shows a camper in his one-man tent. The copy reads: "my en-suite is called a bush."

The endline for the campaign is: "Bovril. Give me strength."




Credits

Client: Noam Buchalter, brand development manager Unilever UK
Brief: Reposition Bovril as the official drink of the great outdoors
Creative agency: Krow
Copywriter: krow
Art director: krow
Planner: krow
Media agency: Mindshare
Media planner: Mindshare
Media spend: NA
Photographer: Julian Germain
Exposure: National Weekend Supplements and specialist monthly titles