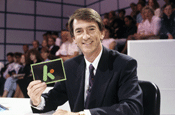 Sage has agreed the largest ad-funded programming deal that ITV1 has ever commissioned, which will involve the show returning to the channel in 2009 with a 21st-century makeover.

The deal, the first of its kind to appear in ITV1's peaktime schedule, will involve Sage funding production of the show as part of its new The Business IQ campaign, which has been developed with Sage's content agency, Drum PHD.

Sage's Krypton Factor deal includes sponsorship credits around the show and exclusive content online and across ITV's other digital channels.

The new series of The Krypton Factor, which originally ran on ITV during the 80s and early 90s and was hosted by Gordon Burn, will be made for ITV1 by ITV Productions' entertainment division.

Julian Smith, the planning account director at ITV, said: "This is the biggest ad-funded and multi-platform programme ITV has commissioned and the first one to appear in ITV1's primetime schedule. The project has come to fruition from a well co-ordinated and collaborative approach across ITV's commissioning and commercial teams, Drum and Sage."