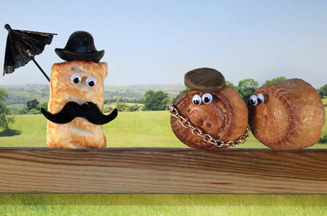 The campaign, which launched in February, is calling for compulsory 'country of origin' labelling so that meat products that are labelled British can only come from animals born and bred in Britain. At present, manufacturers can claim that meat imported from another country is British if it is processed in the UK.
The drive has been promoted by a website and an animated short film, featuring a talking Dutch pork pie unsuccessfully trying to convince a British counterpart that it is British too.
Nick Herbert, the shadow minister for environment, food and rural affairs, slammed the government's inaction on the issue during a fringe event at the Conservative Party conference in Manchester.
'They've been talking about honest labelling for a decade, but they have not achieved it,' he said.
Herbert praised supermarkets, singling out Morrisons, the sponsor of the fringe, and Tesco, which he said would be changing the labels of 1000 food products to make them comply with his party's proposals from this month.
Also in attendance was Ed Mayo, chief executive of Consumer Focus, the statutory consumer watchdog. He accused the government of 'fudging' its approach to labelling by allowing supermarkets to develop a range of different schemes, resulting in an 'absolutely catastrophic' situation for shoppers.
'The truth is that we have been left baffled and bamboozled by front-of-pack labelling,' he concluded.