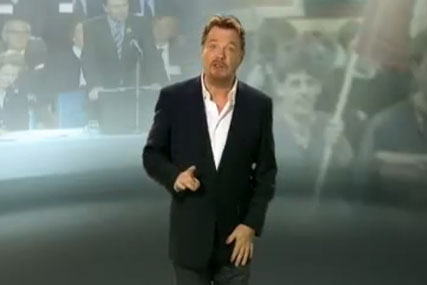 The broadcast will go out on television tomorrow night, but Labour has started circulating the film online today as a "conversation starter" before doorstep campaigning this weekend.

Izzard opens the film by claiming the Tories are going "to hit us lots of posters and adverts ... because they've got shedloads of money" from wealthy donors who know they will get their cash back from tax concessions.

He adds that he takes offence at their claim that Britain is broken, claiming that when he ran multiple marathons around the country last year he met people working hard and looking out for each other.
On the Tories claim they will give the country change, the comedian warns it will be change back to the Tories of old "with new suits on". In his trademark style he jokes "It's Thatcher! Be afraid, be very afraid."
Labour's General Election co-ordinator Douglas Alexander said: "When we knew we had a Friday evening slot for the film, we wanted it to be engaging and entertaining - a party political broadcast that people would actually want to watch at the start of the weekend. Eddie is a powerful communicator with a message about the Tories he wants the country to hear."
Join the election debate on Brand Republic's The red, yellow and blue blog.