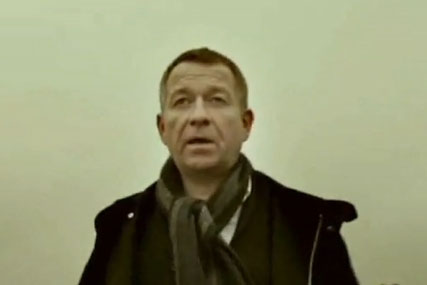 Entitled 'The Road Ahead' and set to air on TV from tonight, the three-minute broadcast concludes with a voiceover by David Tennant.

In the first half of the film Pertwee recaps Labour's response to the financial crisis before arriving at a crossroads where he asserts "There are real signs that we're on the right road ... and I really don't think now is the time to change direction."

As he continues his speech Pertwee ignores a turning to the right which leads down a slope, and carries on straight ahead.

As the turning he ignored is revealed to be full of roadblocks, Pertwee continues: "Things are still fragile, which is why now is not the time to change teams and go off in a different direction."

The film concludes with Pertwee striding off into a sunnier landscape while Tennant's voiceover recaps the idea of the ad and introduces Labour's election slogan 'A future fair for all', which appears as the endframe graphic superimposed over a sunrise (or a sunset depending on your point of view).
'The Road Ahead' will be broadcast at 5.55pm on BBC Two, 6.25pm on ITV1, 6.55pm on BBC One, 7.25pm on Five and 7.55pm on Channel 4.
Read more on Brand Republic's The red, yellow and blue election blog
Gordon MacMillan on The politics of social media and CLTs (career limiting tweets)
Mark Hanson on Searching for votes: What would Google do?