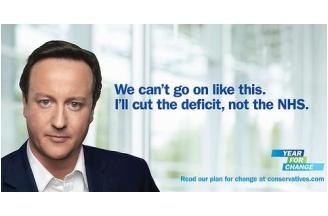 The revelation comes as the Tory party launches a £400,000 heavyweight national poster campaign aimed at communicating that the NHS is safe from cuts under a Conservative administration. The creative features a prominent picture of party leader David Cameron which was chosen by his wife Samantha.
In today's Times, former Labour cabinet minister David Blunkett claims his party cannot match Tory party adspend without going close to bankruptcy.
The Conservatives are set to out-spend Labour by a factor of about three to one. Labour has a campaign budget of £8 million and is having to hold this back until the polling date is announced. In contrast, the Tories are expected to raise about £25 million for this campaign.
Labour has made it clear that it intends to take the marketing fight to the Tories online. Last year it launched a search for an online communities organiser and digital marketing co-ordinator.