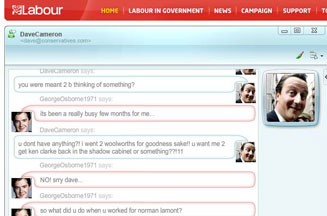 The campaign forms part of the Labour Party's claim that the Conservative Party has a 'do nothing' approach to the economic downturn.
The shadow 'Web Cabinet' idea has been devised and designed by digital agency Tangent One. It depicts an imaginary online Shadow Cabinet meeting.
The spoof is the latest in a number of tactics that the Labour Party and Tangent One have devised over the past 12 months to communicate Labour's messages via the web. A previous example that appeared on the Labour website in November 2008 was the imagined policy ramblings of David Cameron in his schoolboy exercise book.
Last month the Conservative party appointed Jeremy Hunt MP to push digital communications.
Tangent One re-launched the Labour Party's website before its conference in September 2008.