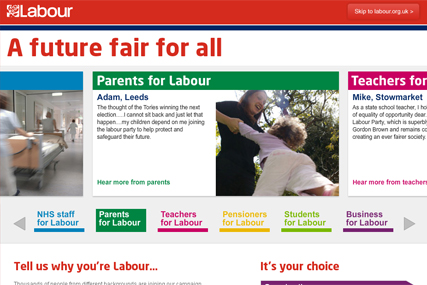 Created by Saatchi & Saatchi, the slogan attempts to capture the "eternal heart" of the Labour Party and Brown's "own personal point of view", according to Richard Huntington, director of strategy at the agency.
Huntington said: "The new slogan also highlights that change is a process. It locks together a destination for Britain and it articulates that the future for Labour is for the many, compared to the Conservatives where the future will always be for the few."
It comes ahead of a multimedia ad campaign for the Labour Party set to launch in March which has been planned and bought by WPP media agency Mindshare.
The launch of 'A future fair for all' slogan was accompanied by a revamp of the Labour Party's official website.
Neil Taylor, creative director of business language consultancy The Writer, praised the slogan from a language point of view for being "pretty good".
Taylor said: "Why? Because most slogans, if they're short enough to be memorable, can only say one or two things at most.
"This successfully gets in two of Labour's big messages. Fairness, which lets them have a sly dig at the shadow cabinet's upper-class backgrounds, and the future, which shifts the focus from analysing their record and stops the Tories monopolising the idea of change. The alliteration of the slogan makes it memorable too.
"It also has a slightly unusual structure. We'd normally say 'a fair future for all'. The inversion makes it more dramatic, and more visionary. In the US, president Kennedy did the same thing in 'Ask not what your country can do for you...', rather than 'Don't ask...'."
But not everyone is so convinced by the new slogan, with influential political blogger Archbishop Cranmer calling it a "curiously confusing and clumsy construction," which he accused of turning an "adjective or adverb into a noun".
He said: "Unless they really are suggesting that Labour's election manifesto for another period of government will grant us all nauseating rides and amusement stalls for our mutual entertainment."
A Conservative spokesman slammed the new slogan for being "far from original" and pointed to strong similarities with a speech made by Gordon Brown at the 2003 Labour Party conference. The Tory website added "we are into 'you couldn't make it up' territory".
The Tories are preparing to unveil their own election campaign created by Euro RSCG in March. It is being planned and bought by Havas Media's MPG.