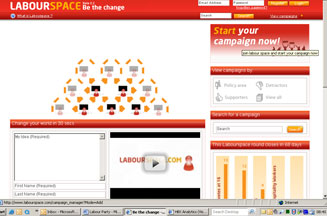 Labourspace.com offers organisations and individuals the opportunity to set up campaigns they want to bring to the attention of Labour politicians.
Ed Miliband, the energy and climate change secretary, who is compiling the next Labour election manifesto, said: 'The idea behind Labourspace.com is really simple. You get your own webpage within the Labourspace network where you can tell us why you think Labour should be implementing your campaign ideas.'
The launch of this website comes just a week after Labour Party activist Derek Draper launched another site labourlist.org a site for party sympathisers.
Speculation over when the election will be called is rife with political pundits with some believing Brown could go to the polls as soon as June.
Read Gordon's Republic - Labour gets social media