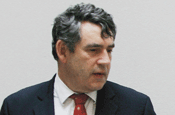 Saatchi & Saatchi beat a shortlist of Beattie McGuinness Bungay, Profero and Albion to land the business, one of the country's most high profile ad accounts.
Saatchis is understood to have clinched the business after impressing Labour with the breadth and depth of its creative ideas, its capacity as a big agency and the new management approach under SSF chief executive Robert Senior. The pitch was led by Senior and creative director Kate Stanners.
Douglas Alexander, Labour's general election co-ordinator, said: "I can confirm that we have appointed Saatchi & Saatchi and we are delighted to have them on board."
Senior added: "This is a seminal moment for Saatchi & Saatchi and a seminal moment for Kate and myself. It's a real statement of intent for the agency. We have the opportunity take the strength and conviction that Gordon Brown has shown as Prime Minister and apply our creativity to that to do the right thing for the country."
For years the Saatchi name was synonymous with Conservatism, even though the agency actually resigned the Tory account in 1987 before taking it on again for the 1992 election campaign. It created the legendary "Labour isn't working" ad that helped bring Thatcher to power in 1979, and the Conservative ad account helped turn the Saatchi brothers (who left the Saatchi & Saatchi agency in 1994) into household names.
Labour's 2005 election ad campaign was handled by TBWA\London and ?featured a print ad that took a swipe at Saatchi & Saatchi's ?"Labour isn't working" poster. The ad used positive? images of modern Britain such as football stadia and Olympic gold medals ?and the strapline: "Britain is working."
The Labour Party kicked off its ad pitch at the beginning of August amid reports that Gordon Brown was planning to call a general election for 1 May 2008; technically an election does not need to be called until the summer of 2010. There are no details yet about the timing of Labour's pre-launch ad campaign, nor the budget it can employ, though a £2 million donation last week from Lord Sainsbury will have helped swell the Party's coffers.
EDITORIAL COMMENT
Labour's decision to appoint Saatchi & Saatchi is laced with irony and interest. The idea of the agency that packaged Thatcherism turning its hand to Brownism is incredibly provocative.
Of course, Saatchis is a very different agency in 2007 to the one that took the Tory party to victory in 1979. The Conservatives helped build the Saatchi brand, but it's a brand that has lost its sheen in recent years.
Winning the country's most high-profile, defining political account at a time when Saatchis is trying to rekindle some of the success that made it a household name in the 80s is an irony that will be lost on no-one in adland.
Yes, political ad accounts don't make an agency rich. But they can change fortunes and create fame, as Maurice and Charles Saatchi found out. Can Saatchi do it again? With Labour? The pitch work, which shows a picture of Gordon Brown with the line "not flash, just Gordon" is a great start.