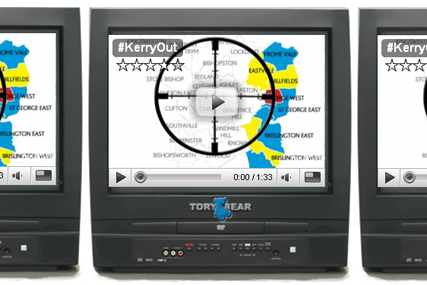 McCarthy, who was dubbed the Twitter tsar following her appointment, is the MP for Bristol East and her main rival for the seat, where she has a majority of 8,621, is Conservative candidate Adeela Shafi.
The campaign to oust McCarthy was launched by Harry Cole, who is editor of the blog Torybear.com, and is supported by Tory bloggers including Shane Greer and Iain Dale among others.
Cole has launched the website Kerryout.net and is helping raise money for Shafi's campaign. The site claims to have so far raised £1,340 for the Tory challenger.
The Kerryout website features a YouTube video that mostly makes reference to her appointment as Labour's Twitter tsar and says that "she was virtually unknown in Westminster and beyond until she was appointed".
"Ironically this promotion has been Kerry McCarthy's downfall. Her new power and responsibility has highlighted her utter incompetence and unsuitability to serve the House of Commons," the site says.
It also accuses her on issues relating to expense claims, attacks her Labour Party allegiance as "slavish" and calls her an "utter fraud". Other Tory blogs have made similar, at times personal, attacks on the Labour MP.
McCarthy's appointment as new media campaigns spokesperson was one of the first moves Labour made to boost its digital campaigning efforts.
Labour has since hired a digital campaign team including an online communities organiser who will work across various social media sites.
With Labour lagging far behind the Conservatives in terms of campaign funds new media will prove a crucial battleground.
It has been reported that Labour will be outspent by the Tories in the coming general election by 3/1. Labour is said to have just £8m in funds compared to the £25m the Conservatives are expected to raise.

More on Brand Republic blogs