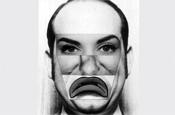 The press ad, which will also appear in the Racing Post, is a mock public appeal to find the sole person who complained about the original TV spots.

It shows a photofit with the headline: "Missing - a funny bone."

The complaints were levelled against two ads. One has a man skydiving with a crisp packet for a parachute while the other has a man with bacon and sausages tied to his wetsuit swimming with sharks.

The campaign was designed to show how the thrill of betting at Ladbrokescasino.com meant that people wouldn't have to take risks anywhere else.
The complainant said the ads:
portrayed gambling in a context of toughness or linked it to risk taking and reckless behaviour;
portrayed, condoned or encouraged people to gamble in a way that was socially irresponsible and could lead to financial harm;

exploited the susceptibilities and aspirations of vulnerable people, according to the BCAP TV Advertising Code.
The ASA today banned the ads on the first ground, but cleared the ad on the second two grounds.

Ladbrokes is now lodging a request with the Independent Reviewer of ASA Adjudications to review the decision.

It believes that the ruling is an incorrect application of the CAP (Broadcast) TV Advertising Standards Code and is in effect a ruling against using humour in gambling advertisements.

John O'Reilly, the managing director of Ladbrokes Remote Betting and Gaming, said: "Ladbrokes fully supports the code of practice relating to gambling advertising but this ruling is an example of political correctness going too far.

"The idea that an advertisement using absurd humour is somehow going to make gambling dangerously appealing is nonsense.

"We don't believe that banning humour is what the code was designed to achieve."



Click to enlarge


View the banned Ladbrokes ads: