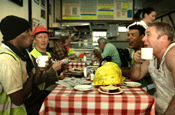 The bookmaker is approaching agencies directly. Ladbrokes does not have an incumbent DM agency, although it has used Rapp (previously WWAV Rapp Collins) to work on data consultancy in the past.
Previously, Ladbrokes has worked with agencies on a project basis, and used its in-house marketing team. It has now brought in Damian Reilly as its new head of retail CRM, and is keen to appoint a retained DM agency.
The successful agency will promote the fact that Ladbrokes has more than 2,500 shops in Britain, as well as the "odds on" loyalty card, which it launched ahead of the Euro 2008 football tournament.
The DM agency that Ladbrokes appoints will work closely with its existing above-the-line agency, M&C Saatchi, which the brand appointed in January 2007 following the removal of a ban on betting and gaming ads on television.