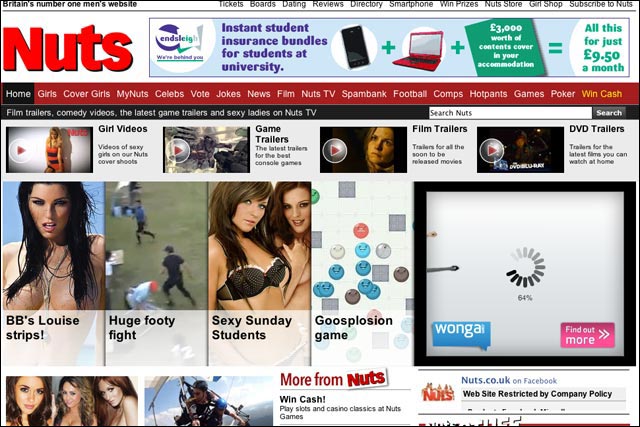 IPC also bagged top place in the women's lifestyle category with its online-only magazine www.goodtoknow.co.uk.
Experian Hitwise ranked sites by their market share of UK visits.
Nuts was placed ahead of online-only offerings such as MSN's Him channel and IGN Entertainment's AskMen.
Bauer Media's FHM and Zoo came in at four and seven respectively in the men's sector, while Heat, whose circulation was down 21.7% year on- ear to 326,677, gained the second-highest amount of hits in the women's sector.
Hearst UK's Cosmopolitan was ranked fourth in the women's sector, with NatMag Rodale title Men's Health coming in sixth in the men's sector.
Charlotte Gunn, deputy editor of Goodtoknow.co.uk said: "There's some tough competition, but continued hard work from both the editorial and technical teams has seen our traffic soar almost every month in 2011. It's great to have that growth recognised."
IPC has announced a range of new investments into its digital offerings, including a tie-in with Procter & Gamble across the mobile websites of its women's portfolio, and a redesign for www.marieclaire.co.uk.
See the top 10 in both sectors in the table below.