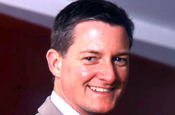 Lambert will leave the agency at the end of April and join JKR as its managing director in May.
Gary Leih, the Ogilvy Group UK chairman and chief executive, will assume Lambert's responsibilities until a replacement is found.
Lambert's exit from Ogilvy Advertising comes 11 months after Malcolm Poynton's executive creative director role was scrapped in favour of a new structure in which the creative partners Greg Burke, Will Awdry, Alasdair Graham and Dennis Lewis were to report into Lambert.
However, following Poynton's departure from the agency and subsequent discussions, this restructure was abandoned and the creative partners were given equal status with Lambert on a newly created agency management board reporting into Leih.
Recent initiatives unveiled by Ogilvy include a development and production partnership with RDF Digital to jointly create branded entertainment ideas and projects.
Lambert first joined Ogilvy & Mather in 1988 as an account executive on American Express. Throughout most of his career, he has remained within the agency's network in Asia-Pacific and London.
In 1999, he joined OgilvyOne London as its head of client service, and was promoted to the managing director of Ogilvy Advertising in September 2006.

Lambert said: Ogilvy will remain a very special place to me. But the opportunity to work with great talent and learn from the best in design, branding and packaging proved irresistible.