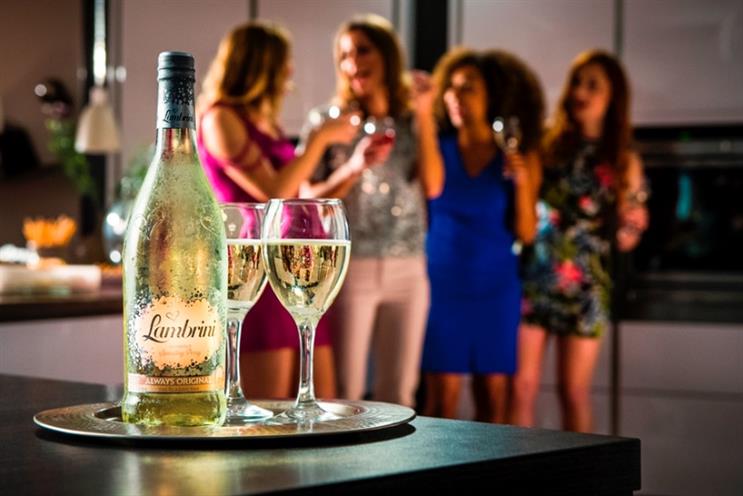 Halewood International has unveiled the new multichannel marketing strategy, which sees a revamped 75cl bottle design, new product names and advertising and experiential activity targeting.
The campaign has been devised by BJL and kicks off today (26 June) with a new-look website serving as its hub.
The marketing is focused on a group of four friends, each of whom represents one of the Lambini flavours - Very Cherry, Truly Peach, So Strawberry and Always Original.
BJL has created three TV ads that will run on Sky Media's women-targeted channels, and a series of 10-second sponsorship idents.
A glamping TV ident will appear on reality TV channel TLC, which the brand is sponsoring. It features a woman texting "Tent's up!" to her girlfriend, who replies: "CU soon xx We'll bring the Brini!"
The characters and idents will also feature across PR and social channels, including on Facebook, Twitter, YouTube and Vine.
The TLC sponsorship has been brokered by MediaCom Manchester and includes a microsite on the TLC website offering weekly giveaways.
Meanwhile, sampling and experiential activity will include a 'Brini tour' visiting four UK cities, a partnership with fashion retailer Joy and sampling at 50 Toni & Guy hairdressing salons.
Michelle Raworth, Halewood International senior brand manager, said: "Just like the Lambrini consumer, the media landscape is growing up, giving us far greater and richer opportunities to reach out to new and existing fans of the brand."
She continues: "'Bring the Brini' represents our most wide-reaching and vibrant campaign in recent years and we're all excited to now see how consumers embrace the new proposition."