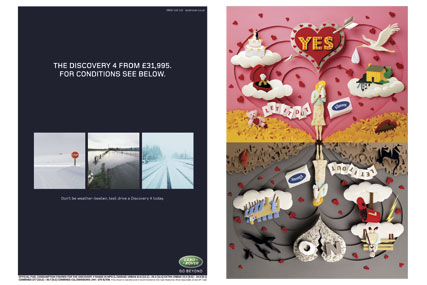 The pair landed the Winners of Winners award at Wednesday night's Annas ceremony for their "conditions" national press ad for Land Rover.
A judging panel including Tim Delaney, the chairman of Leagas Delaney, and Simon Learman, the former executive creative director at McCann Erickson, made the award. Delaney praised the team for showing that "ads on a shoestring, with stock shots and headlines, can present good creative opportunities".
The £5,000 copywriting award went to the M&C Saatchi team Phil Reedy and Matt Beaumont for their "BA humbug" execution for the airline bmi.
JWT London's Christiano Neves won the £5,000 art direction award for the agency's "feelings yes/no" campaign for Kleenex.
The £10,000 online award was jointly won by the Billington Cartmell team Nick Frearson and Liam Fenton, together with Mindshare, for their "fanimal" work for Unilever's Peperami, and McCann Erickson's Matt Crabtree and Simon Hepton, with the London Evening Standard, for their "faulty showers" work for the AA.
The Topicality Award was shared between WCRS and Vizeum for their "show your true colours" work for BMW.