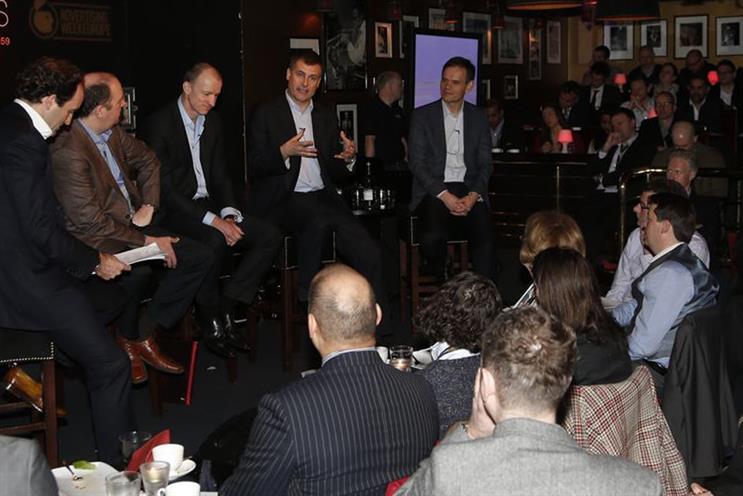 It takes quite an act to fill London's Ronnie Scott's at eight o'clock on a Wednesday morning. But a triumvirate of chief executives from the UK's biggest telecoms operators – EE, O2 and Vodafone – proved up to the challenge, supported by Havas' global leader-turned-moderator, David Jones.
The club's 250 seats were filled by marketers, media owners and agency leaders, while many more had to make do with standing room at the back. Sir Martin Sorrell made sure he had a front-row seat.
All had braved a wintry morning to find out whether there was any real substance in the mobile sector's joint venture Weve. The answer, in short, was "Yes, absolutely".
Mobile promises to become a major part of the media mix through its combination of location-based messaging, app discovery messaging, targeted push SMS and, increasingly, video messaging opportunities.
Vodafone's chief executive, Guy Laurence, positioned Weve as a "single front door to all the advertisers" looking to reach 15 million mobile users. "We, between us, have put in tens of millions of pounds into this," he explained. "We have reorientated our businesses to get the very necessary opt-ins from our customer bases."
After a tentative start following European Union regulatory approval in September last year, many questions remained unanswered about the practicalities of getting a combined resource such as Weve off the ground.
It didn't help that, within weeks of Weve's formation, Ofcom launched its auction of 4G spectrum, resulting in the new bedfellows retreating to work on their multimillion-pound bids.
Last week marked the first time the three chief executives had shared a podium, and jokes about the relief in being able to speak without legal representation cropped up repeatedly. With 100 staff, Weve is small but enjoys the full backing of its shareholders. The EE chief executive, Olaf Swantee, admitted: "We have spent a lot of time with lawyers to make sure Weve and the team can really execute ideas with minimal intervention from our side."
'If you want to be the CMO that didn't sign up The Beatles, ignore everything we've said'


Another hurdle had been in convincing the operators to share their latest technology as well as all their customer information. David Sear, the newly appointed chief executive of Weve, described them as kids not wanting to share their train sets at a party. But, through grit and determination, the infrastructure is now all in place.
Helping to drive this unprecedented co-operation is the threat that the operators could lose their grip on the emerging mobile media space to tech giants such as Google and Facebook.
The roll-out of 4G and near field communication-enabled phones this year will provide rocket fuel for any new possibilities, and the operators fundamentally believe they are stronger together. O2's chief executive, Ronan Dunne, said their customers would value them for the access the collaboration provides. Laurence added: "If you want to be the CMO that didn't sign up The Beatles, ignore everything we've said today."
The talk will go down as one of Advertising Week Europe's finest moments in its inaugural foray in London and proved adland can get out of bed when it really wants to.