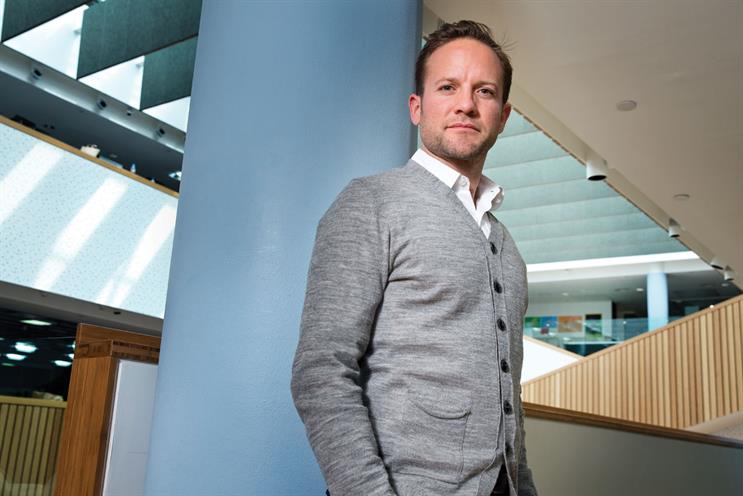 He manages a £160 million marketing budget with a brief to ensure his organisation stays abreast of deep-pocketed rivals and must satisfy an owner so demanding that he has been dubbed Darth Vader. So no pressure, then, on Virgin Media's director of brand and marketing, Richard Larcombe.
Certainly, Larcombe shows no signs of strain as Virgin Media equips itself to mount the strongest challenge yet to Sky's dominance in the wake of its acquisition last year by John Malone's US media giant, Liberty Global, in a £10 billion-plus deal.
The next phase of that challenge has just begun with a fresh round of TV advertising that aims to exploit the trend among viewers to become "boxset bingers" who like watching back-to-back episodes of everything from Breaking Bad to Downton Abbey. And more of them are doing it through catch-up TV or an internet-based service.
The scale of Larcombe's task has been evident recently with figures showing Virgin Media being squeezed on several fronts, having seen slower revenue growth and winning fewer pay-TV and broadband customers than BT and Sky.
Larcombe, though, warns against drawing firm conclusions from looking at Virgin Media's figures quarter by quarter but, instead, to see the broader picture.
Revenues are fundamentally strong and the company's customer base is solid, he maintains. So much so that 80 per cent of them visit the Virgin Media website a month either to buy or find more information.
"What we have to be is much more precise in our targeting," he declares. "And we have the ability to be more surgical in how we go after customers."
The aim of Larcombe's marketing plan is to allow maximum flexibility that will capture customers wanting a solus broadband offering – for which there will always be a market, he says – while milking more revenue per user.
This is the key battleground, with Virgin Media looking to lead the all-important race to offer customers bundled TV, phone and broadband services.
"If we can get more people buying more of our products and services, they become not only more loyal but happier customers," Larcombe explains. "In the end, people like the ease of having one bill and one service provider. They don't like having to change because it's such a hassle."
This is where Liberty Global will give Virgin Media a significant leg-up, he believes, by allowing his organisation to draw on its huge technological experience and knowledge of an entertainment world becoming increasingly interconnected.
"I've never looked on Liberty Global as demanding," he claims. "But I do find it very supportive."
That support may not only be timely but crucial if, as he believes, the technological revolution is impacting on consumers like never before.
However, some argue that Virgin Media is promoting broadband speeds that are so fast that few customers require them. Larcombe denies this, claiming a range of speeds are on offer to suit all needs.
Some might also question whether the organisation is in danger of overhyping what Larcombe believes is its "ace-in-the-hole".
Last month, the Advertising Standards Authority banned a Virgin Media commercial about broadband speeds for giving insufficient information. "We don't like sitting on the naughty step," he admits. "We'd never want to run anything that's misleading."
Nevertheless, Larcombe sees inevitability in what's happening. "With consumer behaviour having caught up with technological innovation, superfast broadband has never been more important," he suggests. "As people's lives become seamlessly interconnected, so it becomes really interesting for us as we find ways to link technology to emotion."
This is the thinking behind Virgin Media's latest TV campaign through Bartle Bogle Hegarty, which has temporarily ditched its usual celebrity line-up – David Tennant, Usain Bolt (pictured above) and Sir Richard Branson – for the first time in more than three years in favour of a boxset-loving "sofa bear" (pictured below) and a night owl. "This is an important creative step for us," Larcombe acknowledges.
The spots capitalise on the addictive nature of the boxset. "There's always a need to watch one more episode," he says. "We think people will identify with these animals and identify with the behaviour they exhibit."
No such lounging around at Virgin Media, though, with BBH, appointed in 2011, briefed to "put the Virgin back into Virgin Media", according to Larcombe. Meanwhile, the review of Liberty Global's pan-European media account has just been won by OMD.
"Liberty Global is very clear about our strategic direction," Larcombe insists. Now it's up to him to deliver the marketing that will make it happen. No pressure, of course.