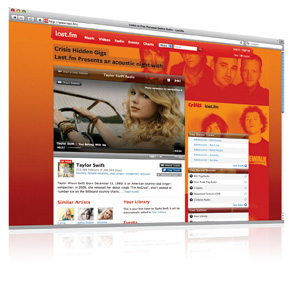 The launch of the online TV service is part of CBS Interactive's bid to expand the Last.FM brand globally, on and offline. Over the next year, it is planning to expand the brand in the UK and Europe through festivals, by either creating its own or linking up with an existing festival.

Last.TV is planned for a January launch and would be accessible via the Last.FM site and, possibly, via a stand-alone website. Presenter-led Last.TV will feature live acts performing in planned new CBS studios.

David Goodman, president of CBS Interactive Music Group, said Last.FM was looking for a sponsor for the TV service.

Other commercial opportunities would include pre and post-roll video ads.

Last.TV's launch would mark an evolution in Last.FM's business model: from static display ads on the site to video ads. Last.FM is free to use in the US, UK and Germany and charges users outside these countries after 30 days of free use.

Facing increased competition in the online music streaming music space against the likes of Spotify, We7, Sky Music and MySpace, Last FM wants to increase its presence.

It wants to align itself more closely with sister company CBS Outdoor to leverage its capabilities, for example by running campaigns across the two companies.

Last.FM is also launching its first offline station in the US. It will feature live performances and interviews from the Last.FM studios in New York.

In 2007, CBS Corporation acquired Last.FM from founders Martin Stiksel, Felix Miller and Richard Jones, who all left the company in June.