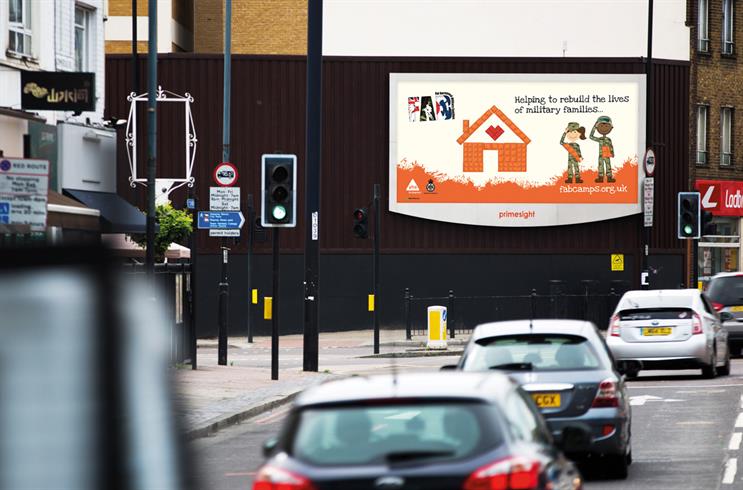 Despite the noise digital created, OOH is still a stronghold format in the world of advertising, with striking creative dominating the urban landscape. What visual, what message, will stop people in their tracks and make a lasting impact?
In the second series of our creative call-out, in partnership with Primesight and creative platform Talenthouse, we challenged creatives worldwide to design an arresting visual to spread awareness of Families' Activity Breaks (FAB).
FAB provides fun and challenging breaks for families that have lost a loved one serving in the British armed forces.
Campaign's global editor-in-chief, Claire Beale, describes the submitted designs as "thoughtful and moving, with a lot of sympathy. The standout posters had the brief clearly in mind, and hinged on a striking image that will stop passers-by."
The chosen design will appear throughout the UK on 50 sites across Primesight's premium digital roadside Network, with the winning artist picking up $1,000. How will it inspire the thousands of people who will see it? We had so many great submissions, but in the end there could only be one winner.
FAB project leader Captain Karen Tait MBE says the charity was conceived because military widows felt isolated, broken and forgotten. Its aim is to rebuild those lives.
"It has been truly FAB to see not just the volume of submissions, but also the imagination of those creators who put their ideas in picture," she says.
"The task was hard: to represent the military in the design, but not overpower our aim. For me the winner has captured this by using objects that represent children, and the heart of the home, which we hope to assist in rebuilding."
The chosen work…
Freelance graphic designer Emma Maloney
She said:
"I lost my dad to cancer when I was 13, and without the love and support of my mum, family and friends, I wouldn't have been able to get through it. Perhaps this is why I have such a strong connection with this rewarding brief. What FAB does is truly amazing and exactly what families going through bereavement need to rebuild their lives."
Naren Patel, Primesight's CEO, says it was great to see the volume of entries once again, especially as this was a difficult message to get across in the simplicity of a poster design. "Emma struck the right tone with a design that grabs your attention and instantly tells you what FAB is all about."
Creative director Sam Ball, of M&C Saatchi, says the entries were created with an abundance of joy and love, but did need finessing. "The keen eye of an art director could have transformed a number into contenders," he adds.
Think you can be a contender? The third and final round of The Ultimate Canvas calls on creatives worldwide to design a billboard for charity Rays of Sunshine, which grants wishes to seriously ill children. The chosen execution will feature in Campaign and, of course, on whopping big outdoor ads.
Look out for this next round on talenthouse.com later in the year. In the meantime watch out for billboards from Future Dreams and Adam & Eve/DDB's Dan Kelly, the chosen artist of the first round, which are due to appear across Primesight's digital Network later this month.
The judges:
Sam Ball, creative director, M&C Saatchi London
Claire Beale, global editor-in-chief, Campaign
Naren Patel, CEO, Primesight
Captain Karen Tait MBE, Project leader, FAB