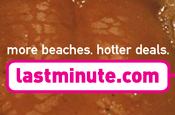 The agency will work on below-the-line communications for the main brand as well as for its sister companies Travelocity and the car-hire broker Holiday Autos.
Tequila's first task will be to build a loyalty programme for lastminute.com. After that, it will produce consumer-focused on- and offline direct marketing campaigns, which will run in markets including Germany, France and Spain.
In the past, lastminute.com has used a roster of below-the-line shops to create its DM on a project-by-project basis.
The pitch was handled by Shai Eilon, the European group head of CRM for lastminute.com. It ran alongside an ongoing advertising review through OysterCatchers.
Eilon said: "We are delighted to announce the appointment of Tequila. Its task is to improve our customer understanding and to build our relationship with our existing customer base."