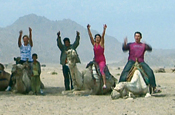 The first of the 60-second installments will break on ITV at 9.50pm on Saturday (28 February) before segueing into the next, which breaks immediately after on Channel 4 and then the third, on Five.

The three-minute film, by Karmarama, sees people in various locations across the world performing a Mexican wave using the "thumbs up" sign.

The first two spots end with a three-second countdown to the next ad, while the final spot bears the new brand strapline: "Do more good stuff."