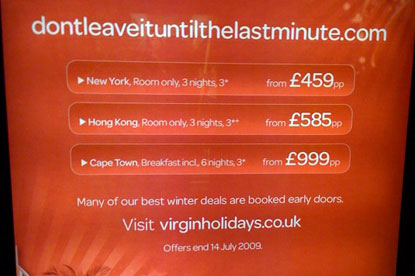 The new poster campaign uses the headline 'dontleaveituntilthelastminute.com', claiming that many of Virgin Holidays' best deals are available when booked well in advance.

However, yesterday, Lastminute.com launched legal proceedings against the firm for breaching its copyright.

Mark Sells, head of UK marketing at Lastminute.com told Campaign: "We have issued a claim for damages against Virgin Holidays.

"We have had a lot of success in protecting the copyright of our URL and take potential breaches very seriously."

He said that hoped that Virgin would respond positively to his company's claim, and that legal action would not have to be progressed any further.

Virgin Holidays has yet to respond to Campaign's call about the matter.