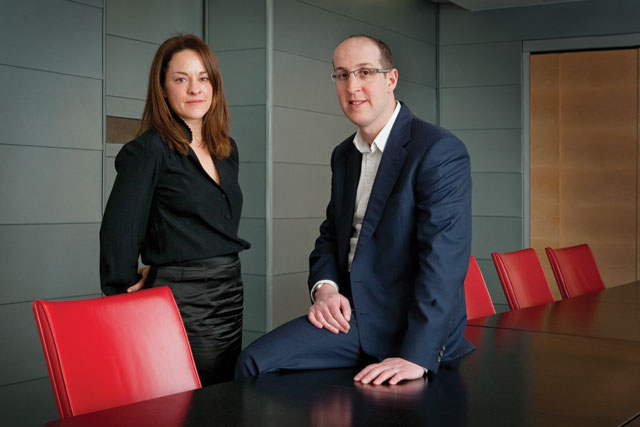 Initiative has had a few fuel injections over the past ten years, yet these have never quite managed to take the agency to pole position. Last week marked the latest with Jim Hytner, the former Barclays marketing director and the president of the G14 region at sister agency Universal McCann, promoted to become Initiative's worldwide chief executive.
Hytner will replace Richard Beaven, who is stepping down to pursue his passion for documentary photography. Beaven became the Initiative worldwide chief executive in 2008, when he stepped up from chief executive of North America. He was credited with turning the agency around in the US by winning Cadbury Sch-weppes and Hyundai.
Last year, the agency stalled again when its US operation lost the $300 million (£189.2 million) Bayer and the $700 million (£441.6 million) Home Depot accounts, although we are told Beaven's departure is not to do with performance. Tim Spengler, the Initiative regional president for the US, is also on the move, becoming the global chief executive of the forecast and negotiation arm, MagnaGlobal.
In another shift, both Hytner and the agency's worldwide headquarters will be based in London. This renewed focus will strengthen the support for and, arguably, the scrutiny of, the UK chief executive, Alex Altman, and his team.
In his first year at Initiative, Altman raised the agency to fourth in Campaign's new-business league, a full 15 places ahead of its position in 2010. Despite this, there have been comments that Initiative is going to have to win more than Quorn, Dow Chemical and the cheap flights specialist Flight Centre to trouble the big league. Yet Altman points to the agency's 100 per cent retention rate in 2011 and says the agency triumphed against the big-league agencies Starcom MediaVest Group and Carat in competitive pitches.
Although figures from Nielsen for 2011 show Initiative failed to improve its position as the 12th-biggest UK agency, billings were up 8.2 per cent year on year at £184.1 million and it was ranked higher than its sister shop UM. However, questions remain about the proportion that the supermarket giant Tesco makes up, and what might happen if the circling vultures have their way.
While the departure of the former Initiative managing director Danny Donovan to Media-Com was seen as a clear attempt to prise Tesco from Initiative's grasp, no pitch has yet materialised. Altman dismisses the loss of Donovan as a concern. Yes, he led the account for many years, but servicing the supermarket is a team effort.
"Tesco is a very important client, and we have worked with them for more than 20 years," Altman says. "I don't think we are defined by Tesco - and I don't want us to be.
I want to value the relationship. I want it to get stronger and deeper, but I want to do the same with our 40 other clients."
As part of the next stage of the UK agency's renaissance, Altman has just made a big appointment of his own. Anna Watkins, the former managing director at the digital agency Grand Union, starts at Initiative as its managing director this week. After working at a creative agency, a media owner, in branded content and, latterly, running a digital agency, Watkins sees media as "the missing piece of the jigsaw".
Altman describes Watkins' second interview for the job as the best he has ever seen: "She told me things I didn't even know about the business." Indeed, Watkins' presentation was so impressive, he says, that he offered her the job before she had even finished it.
As well as being client-facing, Watkins will take the role of head of digital. Altman says Watkins will give the agency "an edge" and that her experience will "touch all of our clients so all of our clients can be infected with that knowledge and capability".
"The reason I went for Initiative, above other opportunities, was the ability to make a difference," Watkins explains. "What excited me was the scale of the ambition to change. Not just to strengthen digital but to ensure that Initiative has the best integrated offering."
Watkins says the majority of her role at Grand Union was working with clients, not making Facebook pages. And it seems she does it well. Emma Jenkins, the former associate marketing director at Procter & Gamble, says she was struck by her "energy and passion for pushing breakthrough ideas forward".
Carrie Hindmarsh, the chief executive of M&C Saatchi and a former colleague, says Watkins has an ability to get the best out of people: "She's very popular but she has very exacting standards. People just want to follow her."
Hindmarsh says Watkins has the nickname "pocket Anna" because "you just want to put her in your pocket and take her away". It makes for an amusing comparison with Altman, one of the taller members of the advertising community. "We're like little and large," Watkins says with a giggle.
Alongside Watkins, Altman's senior management team will include Tony Regan, formerly the head of planning and insight, in the new role of chief strategy officer, and Jane Wolfson and Chris Wright, the heads of non-broadcast and broadcast respectively, who will take on the additional roles of joint heads of investment and media owner relations.
Altman says making employees feel valued is one of the most important things he has done. Initiative has re-established its "sense of purpose and self-belief", he adds, citing the fact that the agency has reduced its churn rate from 28 per cent in 2010 to 15 per cent in 2011.
Altman has a lot of fans too, of course. He was a rising star at Carat before moving to MEC as its deputy managing director, where he went on to lead the team that won the media pitch for COI. After circumstances shrank that account, he made the switch to Initiative.
However you describe this new partnership, it's easy to see that Altman and Watkins are in it for the long term. Initiative has a renewed sense of self-belief and energy, but it will take a couple of big wins to exorcise the ghosts of long-lost clients such as Orange, Unilever and Vauxhall Motors from the wider perception of the agency in the UK.
As for Hytner, he will need to pull on his varied experience to deliver for Initiative. But with a renewed sense of purpose in the UK, it seems Altman and Watkins will have no excuse but to effect change.
HYTNER'S ROAD TO INITIATIVE
1998: Jim Hytner spends his early career in marketing at Coca-Cola and Sega before becoming the marketing director of BSkyB. In 1998, he joins Channel 5 as its director of marketing and new business.
2001: Succeeds John Hardie as the marketing and commercial director at ITV.
2004: Leaves ITV to become the marketing and communications director at Barclays.
2007: Joins the pay-TV company Top Up TV (whose chairman is a former BSkyB colleague, David Chance) as its commercial director.
2009: Joins Universal McCann as its EMEA president, reporting to Matt Seiler, the global chief executive, and Mediabrands EMEA president Graham Duff, a former ITV colleague.
2011: One month after Hytner joins the group, Duff resigns. Hytner now becomes more influential in revamping the network. In March 2011, Mediabrands restructures its global operations into a "cluster" set-up, handing more regional responsibility to Hytner. He becomes the president of the G14 cluster, with responsibility for the 14 most strategically important markets outside the US.
2012: Becomes the worlwide chief executive at Initiative after Richard Beaven's departure. He is succeeded by Guy Beach, the UM global chief operating officer.