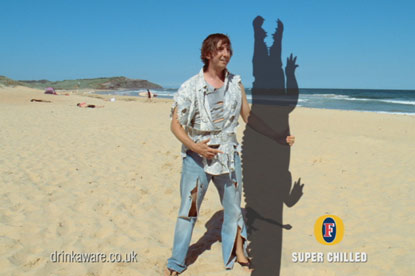 With hindsight, you have to conclude that Mark Given made a better than good call in letting a virtually untried agency convince him that having a couple of laidback Aussie beach bums dispensing advice to angst-ridden British blokes was a good way to sell lager.
Subsequent events, of course, have shown the actual risks to be minimal when it came to mapping out a new advertising course for Foster's, the UK's second-biggest lager brand, generating £2 billion in retail sales.
For one thing, the agency picked by Given, the brands director at Heineken UK, which controls Foster's, was Adam & Eve, probably the most successful UK start- up in recent years. For another, the devil-may-care duo Brad and Dan have become two of the most familiar advertising frontmen currently on air.
Indeed, it's a measure of their growing popularity that when their first commercial went on YouTube, it took four months to attract 100,000 hits. The latest one, in which a young man asks the agony uncles if he should tell his girlfriend that her new hairstyle is terrible, received the same number of hits within a few hours.
All this will have gone down a treat with Given and bears out Heineken UK's decision to increase marketing spend across all its brands by between 10 and 15 per cent last year and to do the same for 2011.
"The downturn hasn't necessarily shaped how we spend," Given says, even though the company operates in a beer market that it concedes is always tough and sometimes downright painful as drinkers' disposable income drops and competition intensifies.
As if that wasn't enough, Given and his team were increasingly worried that Foster's wasn't getting the advertising that befitted a great heritage first established by Paul Hogan when the brand arrived from Down Under 20 years ago. The result was a pitch and the severing of a link between the brand and M&C Saatchi that began in 1996.
"We felt we needed to get back to the kind of funny and simple advertising that defined Foster's," Given explains. "Although we knew the M&C people well, we felt we'd gone about as far as we could go with the agency. Perhaps both of us had got a bit complacent."
His search for a new agency had no lack of ambition. "We wanted to run the best pitch ever seen and for the creative directors taking part to say we'd given them the best briefing they'd ever had."
Adam & Eve was sufficiently fired up to invite the Foster's marketers to a pub where the agency had built a mock-up of Brad and Dan's beach hut to bring its idea to life.
"When the agency first presented 'good call', we knew we had something," Given recalls. "The line was almost a pitch-winner in its own right."
Most importantly, though, "good call", which Given believes has at least two more years left in it, resolved a problem that had been plaguing him for some time.
"Although Foster's advertising has always been about its Australian heritage, we've adapted it a lot because Foster's has been in the UK for 20 years," he points out. "It meant that the brand was becoming a bit distant from its origins and we'd been trying to resolve this creatively for some time. 'Good call' did it."
And maybe not a moment too soon, considering that Foster's core market of men aged between 18 and 30 is notoriously difficult to reach. Given is buoyed by the fact that this market still watches as much TV as it did a decade ago, even if much more of that watching is happening online.
It's that trend which led to the brand linking itself to comedy. Last year, in a deal created by Naked and brokered by Starcom MediaVest Group, Foster's sponsored all comedy programmes on Channel 4. It also aims to encourage grassroots talent through its backing of the Edinburgh Comedy Awards.
"Brands like Coca-Cola have an historic association with football but sport or music didn't seem quite right for us," Given says. "Comedy is different because our advertising is based on it and comedy is relevant to our target audience."
Foster's has just wrapped up a 12-week season of Mid Morning Matters, an online comedy series starring Steve Coogan's comedy character Alan Partridge and produced by Coogan's production company, Baby Cow. It attracted some three million views.
"This was uncharted territory for us," Given acknowledges. "We didn't want to over-brand it and we had to trust Baby Cow because we had no control over the scripts. The only request we made was that our brand shouldn't be brought into disrepute. We now have an agreement under which Baby Cow can sell the foreign rights and we get a percentage of the profits."
Meanwhile, Given has an entirely different challenge to confront with his other major responsibility, John Smith's. Like Foster's, the brand has a terrific advertising heritage. However, its core market is very different and one that's well represented by the campaign's star, Peter Kay.
"John Smith's is for 45-plus men with a down-to-earth attitude and traditional family values. Kay says the things John Smith's drinkers would probably like to say," Given declares. It's been a successful formula - John Smith's sales having grown by almost 2 per cent year on year.
Whether or not Kay, who returned to the campaign, created by TBWA\London, last spring after a five-year break, will stay on board is an open question. He's contracted for three films, meaning there's enough in the can to see the campaign through to the end of 2011.
Whatever happens, Given expects more lively discussions with creatives whose enthusiasm sometimes gets the better of them. Does he ever turn down scripts? "Regularly. Creatives will always push the boundaries. Sometimes they forget the regulations. Sometimes they forget what our brands stand for. Our market is so challenging that good creative output just isn't enough any more."
THE GIVEN LOWDOWN
- Engineering a job at P&G
Despite his rural roots - he was brought up in a farming community on the border between County Tyrone and Donegal in Northern Ireland, where his father worked in the dairy industry - Mark Given had early ambitions of a career in civil engineering.
That's what he was studying at Glasgow University when a "milk round" presentation by Procter & Gamble set him on an entirely different course. His mind was made up when P&G confirmed his degree would be no barrier to a job in marketing.
- From toothcare to Tampax
It led to a nine-year stay at probably the world's best marketing "school", working on Pringles and P&G's toothcare range in both the UK and Switzerland, and, finally, on feminine hygiene products: "I think some of the supermarket buyers found it a bit more comfortable dealing with a bloke."
- Good call
Having become settled with a young family, Given chose not to follow P&G's international career path and opted to join Scottish & Newcastle as the marketing manager on Foster's.
- Refreshed by Heineken
Heineken's takeover of S&N saw him involved in the subsequent review of the brewer's brand portfolio and his elevation to brands director with responsibility for Foster's, Murphy's and John Smith's. He currently works with a seven-strong agency roster.