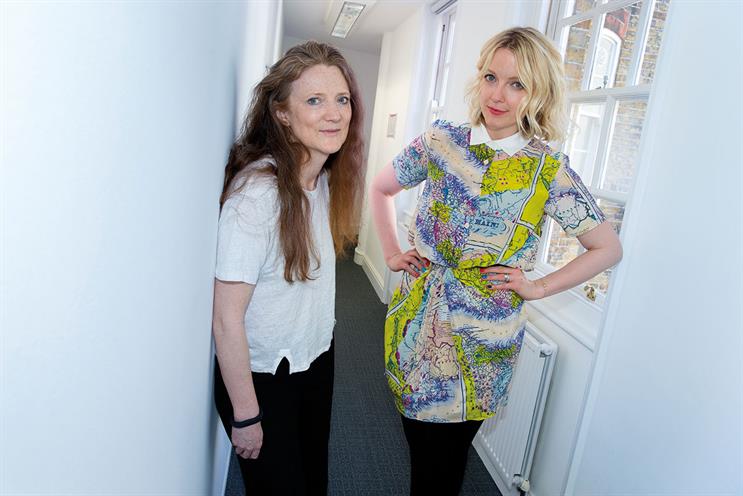 Lauren Laverne is swiping through an article on her new iPhone 6. In a series of gifs, her colleague Frankie Graddon demonstrates how to use red lipstick to cover over the dark circles that appear under many eyes. As a zeitgeisty new trend covered in a fresh and accessible way, it is a great example of what Laverne and her partners are trying to do with their new media platform, The Pool.
"Most beauty videos are how Terry Wogan would do beauty videos," Laverne jokes in her distinctive north-eastern drawl.
It's two months since The Pool launched and Laverne has settled into a routine. She hangs up her headphones in the BBC 6 Music studio in Western House at 1pm each weekday and walks round the corner to an unassuming Regus office, picking up her lunch on the way, to settle into an afternoon of crunching Google analytics and meeting commercial partners.
A TIMELY LAUNCH
In the bright and hectic office, Sam Baker, a former editor of Cosmopolitan, and The Pool's ten-strong team have been listening to the show. Laverne and Baker have known each other since Laverne wrote a column for Hearst Magazines UK's Red while Baker was its editor. Baker left Red at the end of 2012 to pursue an "embryonic" idea about a new way of talking to women and it was then that the two started talking.
What began as casual chats about "doing something in the digital space" quickly escalated. Working together, they developed the idea from a Pass Notes-style round-up of what you need to know to a mobile-first multi­media site, with a mixture of video, audio and articles. They are positioning the site as a new type of digital offering that has more in common with broadcast than magazines, and have dubbed it "appointment digital".
In a world of constant updates and live rolling news, The Pool tailors its content to where its readers will be, mentally and physically, at that time of day. Baker says they have "made a conscious decision to go against the digital trend of just throwing everything against the wall and hoping something will stick". In research, when they asked women how the internet made them feel, "one woman actually ducked," Baker says.
The "Pass Notes" idea became the "Today in 3" e-mail at 8am, and then there are recipe suggestions in the late afternoon and audiobooks at 10pm. The Pool has videos of Laverne interviewing people such as the TV presenter and designer Dawn O'Porter and fashion features from which you can click to buy. The site lets you know what's coming up, in the style of a radio show, and tells you exactly how much time each piece of content will take to read.
"There is so much information out there," Laverne explains. "It's so overwhelming. We wanted to give someone this little edit of the world. This is enough to get by, to feel confident and hopefully enjoy yourself a bit as well."
But alongside the round-ups, The Pool is challenging generally held assumptions by publishing extended videos and long reads. And the success of these has led to some satisfying conversations with a certain type of older man. Laverne grins as she explains that some men say, with incredulity: "So it's turned out people want to read news, features and also listen to stuff." Jumping in, Baker says proudly that the PPA chief executive, Barry McIlheney, had asked "Really?" when they talked about the success of their long-form content.
'GREAT CONCEPT'
Alongside the core team, the site has the type of contrib­utors more often seen in broadsheet newspapers than start-ups. Women such as Sali Hughes, Viv Groskop and Laura Craik. Groskop, who hosts a weekly audio agony-aunt show, enthuses about how Baker and Laverne have actually thought about how and when people want to access content. Groskop continues: "It seems crazy that this should be unique, but it is."
Commercially, Laverne and Baker wanted to shake things up too. They say they always planned to make the site free to access, meaning revenue had to come from brands. But instead of depending on the ever-declining value of display ads, The Pool will partner with brands in long-term sponsorship deals. The first commercial partners to sign up were Clinique, Microsoft and M&S Food.
Jo Morrell, a former managing director at Bauer Media, joined The Pool as its chief commercial officer in September last year. She also has an equity stake in the business (alongside the creative director, Sara Horrocks). Morrell says brands are "looking for new and different things at the moment" and have been receptive to having conversations. No doubt bringing a TV and radio star along to meetings helps.
Most conversations are currently with marketers directly, but Morrell is open to speaking to media agencies. And it seems as though the feeling is mutual. Zoe Bale, a senior business partner at Dentsu Aegis Network's Carat, says The Pool is a "great concept" and she's already an avid user. Crucially, she is impressed from a business perspective too: "The Pool's native and long-term brand partnerships are a
great way for brands to tap into that key moment when women are making purchasing decisions."
The Pool launched with investment support from Fourteen17, which provides capital to start-ups such as the programmatic technology company Rockabox and the microblogging dating site TrueView. Louisa Prebble, the co-founder and chief executive of Fourteen17, says when she met with Baker for a coffee, Fourteen17 had closed for investment for the year. But after hearing about the plans for The Pool, Prebble went back to her chairman, Richard Hill, and said: "We've got a bit of a problem; we've got to back this one."
MORE THAN A FIGUREHEAD
Prebble enthuses about the "hugely successful senior team" at The Pool who are all "very successful in their own right" as well as how "exciting" it is to work with a group of founders who are all women. She is also excited about the potential to expand The Pool's model of searching for content by time to different subjects as well as white-labelling it for others to use. Fourteen17 is currently supporting The Pool on a second round of funding in order to grow the team.
As a former editor of Red and Cosmopolitan, Baker will be used to lunching marketing directors and being involved in commercial discussions. Former colleagues in the Hearst sales team say she was known for being very fair and a bit of a "grown-up". Laverne, meanwhile, looks set for her second reinvention. After morphing from pop star to prolific broadcaster – working for ITV, the BBC and Channel 4 – she is now looking to add "media mogul" to her bio. And Laverne is not just there to sprinkle stardust: she's plugged into her laptop, working hard.
The Pool has a potent combination of a compelling new idea brought to life by a strong team. With a target of turning a profit next year, it looks as if the little oasis that The Pool offers women away from the stress of the internet might yet grow into an inland sea.