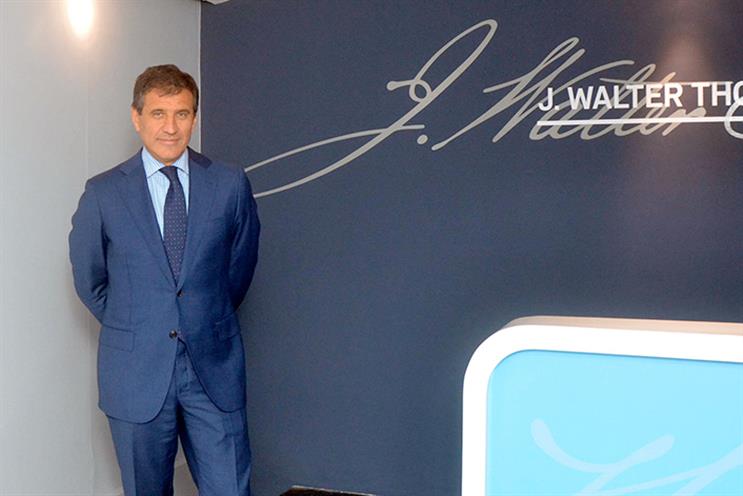 J. Walter Thompson chairman and chief executive Gustavo Martinez was recorded making a rape joke about African Americans during a meeting of top agency executives in 2015, a lawyer for Erin Johnson has confirmed.
Johnson, JWT's chief communications officer, filed a 28-page discrimination lawsuit against Martinez, JWT and WPP on Thursday. In that suit, Johnson describes a meeting at a Miami hotel in 2015 in which Martinez joked about being raped "but not in a nice way" by black hotel guests.
"What is in the complaint, particularly paragraphs 39 and 40, which describe what was said at that meeting, where there were 60 people — including management and HR — was from the tape," said Anne Vladeck, one of the lawyers representing Johnson in the case.
Those sections of the document state that Martinez "made numerous comments about rape" at that meeting, which sources said took place at the Viceroy Hotel and reference a "Miami Life" hip-hop party held at the hotel pool the evening before.
Martinez said he "found … different and strange characters in the elevator," according to the suit. "I was thinking I was going to be raped at the elevator," but "not in a nice way."
Those sections of the suit also allege that at that same meeting Martinez "warned JWT employees to be careful at the hotel" and to "check all your luggage" and "all your stuff."
The recording also includes statements not included in the lawsuit, according to sources who are familiar with it. Before the rape remarks, Martinez, four months into his tenure as CEO, jokingly apologizes to Susana Carvalho for how much activity had taken place in her hotel room the night before.
"I want to apologize to Susana 'cause I know that she had a very, very troubled night," he said, according to sources. "So on behalf of Charlie, Jane, and myself, sorry. Because your room was being very visited tonight."
"Charlie" and "Jane" refer to Charlotte Ibarra, Martinez's global communications assistant, and Jane Arginteanu, his executive assistant, sources said.
The theme of the May retreat in question, a multiday gathering to introduce agency executives to a new companywide work process, was "Pioneering Process," sources said.
A representative for WPP did not immediately return a call for comment. Johnson referred calls to her lawyer.
Johnson, who has been with the company since 2005, shocked the ad industry last week with a lawsuit filed in federal court in New York alleging that Martinez repeatedly made racist and sexist comments that rendered it "impossible for her to do her job." According to the suit, Martinez said, "Come here [Johnson] so I can rape you in the bathroom" in front of colleagues; occasionally grabbed her by the neck or throat when speaking to her; and more than once referred to "fucking Jews" and talked about black people as "black monkeys" in public settings.
Martinez immediately issued a statement denying the accusations in the suit, which was originally reported by the New York Post. "I am aware of the allegations made against me by a J. Walter Thompson employee in a suit filed in New York Federal Court. I want to assure our clients and my colleagues that there is absolutely no truth to these outlandish allegations, and I am confident that this will be proven in court," he wrote.
That same day, WPP sent a memo to agency executives saying the holding company had been investigating the matter and had not yet found any evidence supporting the accusations detailed in Johnson's suit. "WPP's lawyers have been conducting an enquiry into previous correspondence on these matters since February 25 and have found nothing, as yet, to substantiate these charges."
The lawsuit apparently referred to Campaign US editor in chief Douglas Quenqua at one point, outlining a February meeting at which Martinez told "a reporter" that he had moved out of Westchester because it had "too many Jews." Quenqua addressed his possible involvement in the suit in a column on Thursday.
JWT clients, including Johnson & Johnson, Ford, Kellogg, JP Morgan Chase, Macys, Unilever and Coca-Cola, have so far either declined comment, referred calls to WPP or not returned calls.
Correction: This article originally identified the employee referenced in Maritinez's quote as Suzanne Siegel. According to court documents filed by WPP on March 29th, the employee was Susana Carvalho.