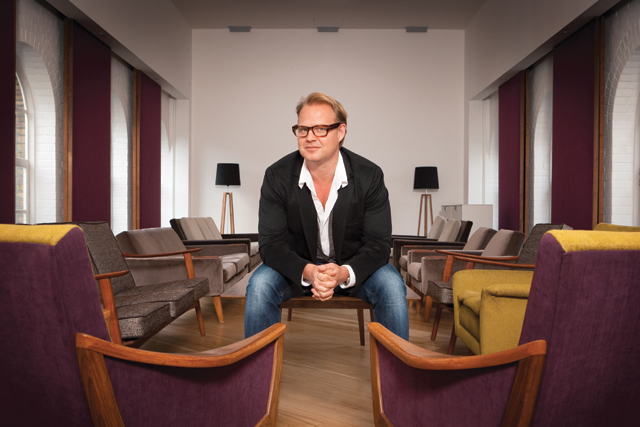 The first thing you notice about Luke Taylor, the chief executive at LBi International, is that he is rather posh. Not quite toff enough to have been a member of the Bullingdon Club, but he did read English at Oxford University.
He's also prone to speaking in impenetrable marketing-speak and this, mixed with the natural verbosity that comes from an Oxbridge education, means, in an hour spent with the man, you'll probably only understand 70 per cent of what he is saying.
Still, his company is more than pleasant and, as the saying goes, the way you say something accounts for far more than what you say.
But what has LBi, which stands for Lost Boys International, been getting up to these days? For starters, it has been doing some strange stunts with unicorns. In September, the LBi creative director, Chris Clarke, was spotted guiding a unicorn (OK, a white horse with a horn on its forehead) up Brick Lane near its London headquarters.
The reason? LBi was making its latest agency promo, showcasing its work for clients such as Coca-Cola, Sony Ericsson and SAB Miller. And it wanted to feature the mythical white beast in the promo.
"The unicorn is our metaphor for transformation," Taylor explains. "For us, it's the magic that happens when you put the consulting, the technology innovation and the creative skills altogether."
It's fair to say that, on the whole, LBi is not known as a creatively led digital marketing shop. This is one of Taylor's biggest beefs. "I utterly reject that comment," he says, sounding like a cast member from Made In Chelsea. "I think Campaign, by its very title, tends to celebrate campaigns, and we're about experiences. As a result, I think we've always been misunderstood. A lot of what we build is services that drive business value. If you were to ask anyone here, they would say we are a creative agency with a big, rich universe of skills that support that creative process."
Taylor references a recent piece LBi has produced for its client Speedo. The Speedo Pace Club is an online training tool and mobile app - much like a Nike Training Club for swimmers. "It's got a lot of technology in the background but, to our mind, it's a beautifully creative solution to a marketing brand problem," he says.
Taylor believes part of the reason why LBi is not perceived as a creative shop is down to the types of clients it serves; the network looks after giant pharmaceutical, banking, telecommunication and utility clients such as Johnson & Johnson, Lloyds, BT and Electrolux. But, he insists, LBi values creativity as the pinnacle of its ambitions: "It's the most important characteristic in everything that we do."
One of LBi's chief obsessions is what it terms "blending". It aims to bring together the right specialists at the right time and in the right quantity to create the best product or experience. "It sounds easy, but it's incredibly difficult," Taylor says. "What we try to do is get everyone to behave in an entrepreneurial and creative way, whether you're a planner, creative, technologist or business consultant."
He explains that LBi, now numbering 2,000 people in 22 offices across 16 countries, has been consumed by the notion of blending ever since Oyster Group, his full-service digital company, was rolled into the network alongside the digital marketing agency Wheel Communications in the mid-noughties. Indeed, LBi itself is the result of a roll-up of several European shops that started with the merger of Icon Media Lab and Lost Boys in 2001, and has since absorbed the likes of Framfab, Syrup, Bigmouthmedia and, most recently, the US-based social shop Mr Youth.
On paper, it may seem a mishmash, but Taylor insists another LBi obsession is to "create a single brand architecture". He adds: "When we win big multinational full-service pitches, often we win because our proposition is very simple and very elegant. When we won Electrolux, we pitched against a Lowe consortia that had a digital specialist, a DM specialist and an experiential specialist. We had everything in one single team."
But within its own set, how does LBi differentiate itself from other digital marketing shops? Taylor says its competitors are Digitas, Razorfish, SapientNitro and AKQA, as well as some local market boutiques that can't compete with them on a global scale.
"I would say we have the most mature service mix, in that we spend a huge amount of time working out how to blend all our offerings - CRM, social, search, design and build, digital campaign and branded content - into a seamless, simple package," Taylor says.
As well as acquiring customers for its clients, he adds that LBi is good at coming up with tools and services that provide value for existing customers, such as its recent Lloyds TSB work that allows consumers to use online tools to manage their money, or a mobile app for E.ON that helps customers save on household fuel. And LBi is no doubt currently beavering away on a utility tool for mums who shop at Asda, as the supermarket is LBi's newest UK client.
Of the new business LBi has picked up this year, Taylor is most proud of its Sony Ericsson win to drive the launch of the Xperia phone, "because the bravery of the idea is huge". The campaign, "reality remade", invites creative thinkers to use the phone in new and exciting ways to celebrate the capabilities of the handset. "We think this celebration of craft skills is a territory that Sony Ericsson can occupy online in the same way that Red Bull owns adrenaline and extreme sport," he says.
Taylor is clearly an energetic, on-the-ball suit who will continue to lead LBi into territories it deserves to be in. The network continues to expand where existing clients take it - it has just opened in Sydney behind Johnson & Johnson and will shortly launch in Shanghai.
In the immediate future, we can expect to see some "very fun stuff" the agency is doing for Coca-Cola for its 2012 Olympics sponsorship - a project it clinched against SapientNitro. And Taylor is particularly excited about a new offering for clients: essentially an integrated platform to help clients build and manage online communities and drive brand advocacy better.
Acquiring new shops and new business aside, it seems LBi certainly has enough on its plate to keep it busy for now.
LBi's best creative work
Macmillan Cancer Support
Infi-Knit
Using the insight that people suffering with cancer are more likely to feel cold, LBi knitted the world's longest scarf to highlight that something needs to be done to help patients with their heating bills.
Lloyds TSB Money Manager
To help Lloyds TSB customers visualise their spending patterns, LBi created the smart Money Manager tool that allows people to track everything from food shopping and home expenses to travel and entertainment.
Sony Ericsson Reality remade
LBi launched Xperia Studio for the mobile handset manufacturer - an always-on entertainment platform allowing artists and collaborators to create and share their innovative content.