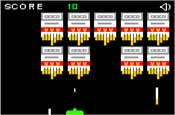 Instead of creating one interactive game on its Department of Health sponsored microsite, which can be found at http://www.leanmeanfightingmachine.co.uk/coi/sendoff, it has built six fun games to play.
Each game is designed to show how easily the fags can be destroyed if you put your mind on it.
One of the games is a version of space invaders where the user controls the space ship, but instead of shooting alien invaders, they shoot cigarette packets.
In "TV", there is a television, with a packet of cigarettes on the screen, and a remote control pointing at it. The user is encouraged to press the power button. Once they do a sledgehammer destroys the TV.
Project name: Support
Client Sarah Partridge, Senior Campaign Manager, Department of Health
Brief There are many ways the NHS can help you give up smoking.
Creative agency Lean Mean Fighting Machine
Copywriter Sam Ball / Dave Bedwood / Zoe Hough / Claire Baker
Art director Sam Ball
Planner Tom Bazeley
Media agency i-level
Media planner Iain Matthews
Designer Wai Tai Li / Mark Beacock / David Cox
Exposure Internet