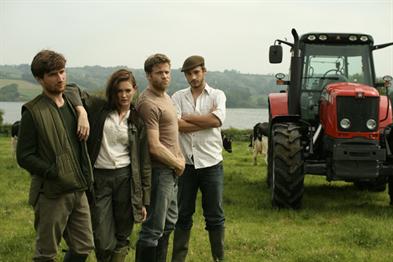 Tim Mead, the dairy farmer who runs Yeo Valley, won't readily forget going agency hunting for the first time. "It's not quite like the way we do things in Somerset," he says, with masterly understatement.
Mead clearly found his early encounters with adland eye-opening, even for a man as far removed from the farming stereotype as it's possible to be.
Not least, because so much of what adland does takes place in the glare of publicity. "When I negotiate with a retailer, it's all very private," he points out. "When I look for an agency, it's all very public. It seems a bit odd."
But Mead is a fast learner. He may be evangelical about agriculture, and the checks and balances that preserve its ecosystem, but he's also an instinctive marketer, brave enough to take risks with a modest ad budget to establish Yeo Valley's organic yoghurt range in the face of competitors capable of outspending him many times over.
As he says: "It's like playing Manchester City when you're in the Dr Martens League."
However, he's happy to take on the challenge armed with the belief that organic farming - which he claims will be vital in feeding Britain in the future - can only thrive if consumers can be persuaded to support it. "Organic farming isn't Luddite," he insists. "We're producing cracking yields."
Mead believes agriculture has become too heavily driven by money over the past 25 years. "We've turned it into an industry, when it actually has quite separate values," he argues. "We are the custodians of the land."
Cast in the role of David against several Goliaths (including Muller and Danone, each with £20 million-plus adspends, as well as Nestle and Yoplait), he can be said to have scored a spectacular early hit.
Not only are the rapping farmers of "live in harmony" - the company's first commercial that made its debut last autumn - a world away from The Darling Buds Of May, but they have proved a huge hit on TV and the internet.
Mead opted to go for broke after being dissuaded by Bartle Bogle Hegarty, which was assigned the Yeo Valley account in March last year, from spreading his budget too thinly. The two-minute spot ran only around The X Factor shows on ITV1 and ITV2 in the hope of a widespread ripple effect.
It was a significant leap of faith by Mead. "We're a small brand that had previously been spending only around £500,000 a year," he explains. "We asked BBH to immerse itself in what we do, and to find ways of increasing our awareness. The creativity in what they showed us was truly inspiring."
The gamble paid off. Besides being seen by some 16 million viewers of The X Factor, the film has been viewed by two million people on YouTube. And what's more, the soundtrack reached ninth spot in the UK music charts and was downloaded 30,000 times.
Mead considers what happened a "rocket-launcher moment", although the strategy has drawn comparison with the effect of similar "spectaculars" produced by US advertisers for screening during the Super Bowl.
As a result, the brand saw a 14.9 per cent year-on-year sales uplift in the three months to the end of December, and outperformed the total yoghurt market by two-and-a-half times.
The statistics are rendered more remarkable by the fact that the lion's share of Yeo Valley's £5 million spend was swallowed up by production, leaving a media budget of only around £1.5 million. Little wonder that the campaign scooped the Grand Prix at this week's Marketing Society Awards for Excellence.
For Mead, "live in harmony" has been part of a learning curve, one that was perhaps made easier by his natural entrepreneurialism and non-conformity. A son of the soil he may be, but he's also a devotee of 70s bands such as The Clash, The Jam and The Skids.
"Music has always been there for me," he says. "We've been selling our products at the Glastonbury Festival for some years. Partly because it's so close to us, and partly because it's a hell of a party."
Nevertheless, Mead faces the challenge of establishing Yeo Valley as a credible player in a sector where marketing is unsophisticated and branding almost unknown.
"You won't find a rib of beef brand because beef is a primary product and you can't brand it," he says. "Plus, farmers don't usually sell to the public. Traditionally, our customers have been places like farm shops and supermarkets. Now we're having to learn how to help our customers sell our products."
But Mead intends Yeo Valley to remain as unchanging as the views from the company's base on the slopes of the Mendips. It has no outside investors and fiercely guards its independence.
"We don't want to be Unilever," he says. "We've been a going concern in the West Country for 50 years, and that's what we'll be for the next 50, because we think that's our best way forward."
History will be the judge of whether or not this is an excessively optimistic prediction. Mead acknowledges that Unilever and others, which together import 300,000 tonnes of yoghurt into the UK a year, have the resources to roll right over a minnow like Yeo Valley.
"We've no intention of letting this happen," Mead promises. "But it means we constantly have to find things consumers want, and which set us apart from the opposition."
Even with an ad budget that Mead pledges to sustain - and hopefully increase - this remains a formidable challenge.
Meanwhile, the immediate problem is how to follow up on the success of "live in harmony". A new film is scheduled for later this year, but whether it will tie in with The X Factor or feature rap is up for debate. "It's early doors," Mead says. "We're putting costs together."
The result will need to reflect the values Mead espouses at Yeo Valley, where visitors can stroll in an organic garden and watch organic recipe demonstrations.
"We walk the walk," he insists. "And if you can communicate that to consumers on a one-to-one basis, they get it."
THE MEAD LOWDOWN
Living the business
Few company bosses have their professional and personal lives quite so inextricably linked as Tim Mead. The North Somerset farmhouse in which he was born and where he still lives is 200 yards away from his dairy herd, and from where Yeo Valley's products are processed and packaged.
Making the grade
Mead's passport lists his occupation as "farmer", although he trained as an accountant in the City after his time at Sherbourne failed to provide him the grades to get him into university.
In 1987, he joined the family business run by his parents, who began making yoghurt on their farm when they opened a teahouse in 1974 and found themselves with a surplus of skimmed milk from clotted cream production.
Tragedy strikes
He'd been looking after the books and handling new product development and procurement for just 30 months when his father was killed in a tractor accident. He duly stepped into his father's role, aged only 26.
Pots of growth
Today, 420 cows, still under his mother's charge, produce two million pots of yoghurt a week, as well as milk and butter. Forty per cent of output is organic. The company employs 1,400 people and has seen growth triple over the past decade. Turnover for this year is forecasted to be £210 million.