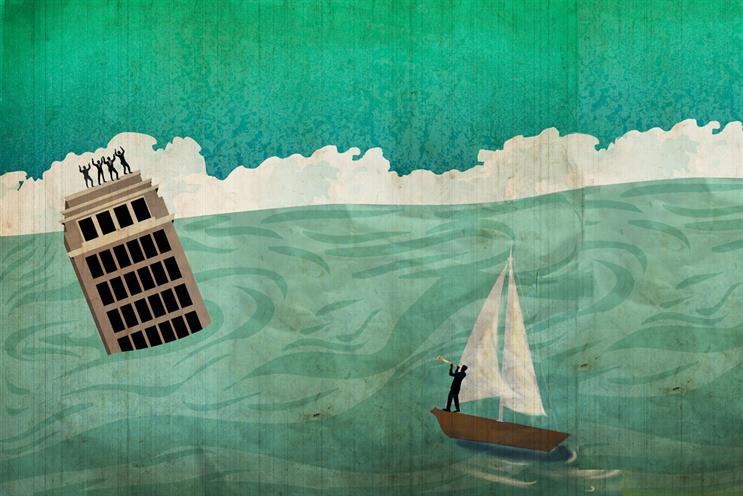 John Owen reflects on the past four years, what went wrong when Dare and MCBD came together and what lessons the agency can now take from this experience.
This is the story of an agency – once, two agencies – that got ahead of itself. But it's more than that. It's also the story of an industry that knew it had to change, but didn't really know how; or, for that matter, what to change into.
It isn't always a happy story. It hasn't been easy to write and, unless you're a sadist, it might not be too easy to read. But, if you love endings that are really just new beginnings, then it does end well. And, the good thing is, it's an ending with a universal meaning – in other words, it might just help all of us involved in this industry, not just a newly rejuvenated Dare, see the future a little more clearly.
Well, here's hoping. It's the only reason I have agreed to write it. And I should stress two things: first, these are my personal views; second, I believe everyone involved gave their absolute all.
Unusually for this industry, this is not a story about incompatible personalities or oversized egos. We all got along and we all tried to support each other along the way. And it still didn't work. So there must be a lesson or two worth learning in there for everyone.
It isn't just the story of a merger. But it does start there. And to understand why we thought it was a good idea to merge Campaign's Digital Agency of the Decade (Dare) with the IPA's Effectiveness Company of the Year (MCBD)… well, you only have to read that sentence, don't you?
On paper, everyone agreed it was a bold, potentially industry-defining move.
That was in 2010 – a time when the digital agency's role was to activate advertising campaigns with interactive, participative ideas. We'd had enormous success doing just this but our frustration was that, in many cases, the interactive ideas were stronger than the advertising ideas they were amplifying.
The problem was, everyone started with the advertising idea. And, naturally enough, everyone briefed the ad agency to do this. So the opportunity for disruption – and the cut-through this appeared to be bringing clients such as Burger King in the US – was non-existent.
A merger with a strong ad agency that understood all of this – and had the relationships to bring this "digital" approach to bear on advertising briefs – therefore seemed to be a stroke of genius to us.
So what went wrong? This is the painful bit. First, we didn't really convince existing clients with our vision. Nor, indeed, did we properly convince ourselves. We talked loosely of being a UK Crispin Porter & Bogusky, with its vision of "bring me the press release, not the script", but we didn't adopt such methods.
Like we do too often in this industry of ours, we fell in love with the idea (of the merger) – and failed to apply enough love to crafting the execution of it.
Our strategy relied heavily on winning the support of new clients. We felt we were riding on the crest of the zeitgeist's very own wave and that forward-thinking clients would be falling over themselves to work with us. The fusion of authoritative brand-building with participative digital innovation was what everyone said they wanted. Actually, as we discovered, the things people say at conferences and in interviews are much more radical than the things they actually put their jobs on the line to do. Especially in a recession.
This confidence in our new-business prospects, coupled with the desire to stabilise clients that hadn't asked for a merger, led us to retain pretty much everyone from both agency management teams in a top-heavy structure. Loyalty played a big part too. But it made for an unwieldy mess that left pretty much everyone diminished and unhappy.
We also struggled with process. The need for coherence and clear creative leadership led to us defining one single way of working, even though the output of the newly merged agency was probably more diverse than any other in the UK. We then recognised our error and tried to liberate ourselves from process. Then, we had to re-impose some discipline. And so on. All very Hegelian.
Today, I suspect we have one of the most sophisticated understandings of how to manage diverse output in the industry. But, boy, has it been painful.
What we've also learnt is that culture is way more important than process. Culture isn't just the way you work – or the way you play, for that matter. It's about the things you value in that way of working and in your people. Ultimately, it determines how your people feel and, in that sense, it is the single most important aspect of any agency.
What the post-merger years have taught us – definitively, this time – is this: however diverse your output, and however flexible your processes can be, culture is not something you can flex. When it comes to culture, the choice is binary: you can be digital or you can be advertising.
We've spent the past four years trying to incorporate an advertising culture into an agency steeped in digital heritage. It's just not us. Today, we are ready to embrace a digital culture wholeheartedly again.
At the risk of repeating myself, I am not talking about output here. Dare's output will still include TV, print, radio – whatever is required. So what do I mean by a digital culture?
I mean not insisting on creative director sign-off for everything and elevating the role of the creative team above all other disciplines in the idea-generation phase. I mean empowering multidisciplinary teams to work in fast, fluid ways, with different people taking the lead depending on the nature of the brief. I mean embracing rapid creative development, in which prototyping and testing are used to contribute to the idea, not to appease a nervous client. I mean fewer handoffs, no bottlenecks, more collaboration and much tougher decision-making when it comes to identifying which people are involved, which aren't and who takes the lead.
It is harder to do but way more flexible and, ultimately, is both more efficient and more effective if you get it right. It puts a value on everyone's contribution – although not all of the time – and makes open, honest communication a key cultural value alongside respect, teamwork and the sheer bloody passion you have always needed and always will need to do great work.
Is this right for everyone? Probably not. The point, I guess, is to know who you are – and to be true to that DNA.
The post-merger line-up in 2010: (l-r) Andy Nairn, Lee Leggett, Flo Heiss, Helen Calcraft, John Owen and Danny Brooke-Taylor
For us, that means being "digital". Which brings me on to the happy ending. Because what "digital" informs is an approach to marketing that is increasingly being demanded not just by Dare's clients but by the international client community.
We believe a digital approach to marketing is essentially a behavioural one, which places the customer experience at its heart. It means seeing everything a brand does as part of the customer experience.
Everything must provide value and everything must hang together in one cohesive whole.
You might call this "new digital". And, everywhere you look, modern chief marketing officers – as surveyed in multiple studies from the likes of Accenture, Harvard Business Review and Forrester – are all embracing this approach. There is consensus that more is being asked of marketers than ever before, that the future is scarier than it has ever been before, but also that the opportunity and requirement to influence the business has rarely been greater. And central to that is marketing's ability to define and improve the customer experience.
I think we're very well-placed to do that. After all, defining and creating brilliant experiences is what we do best. And, like many other agencies, we have a wealth of strategic and creative talent that is often too narrowly applied to the field of communications – which is really just one aspect of the experience customers and prospective customers have of a brand.
It certainly gives us a clear ambition as an agency – one that is true to what the ever-wise John Bartle once said of us: "Dare is at its best when it takes clients by the hand into the new and unknown."
Perhaps, in this ever-more digital world, that's not a bad challenge for the industry to set itself.

John Owen is the chief strategy officer at Dare