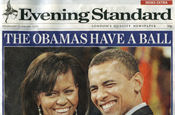 Lebedev has bought a 75.1 per cent stake in the Standard from DMGT for a nominal sum, believed to be £1.

The deal is likely to be completed next month following an employee consultation process.

Lebedev will be chairman of a new company Evening Standard Ltd, in which DMGT will retain a 24.9 per cent stake. Lebedev's son, Evgeny will be senior executive director of the company.

DMGT division Associated Newspapers will continue to provide printing and distribution of the Standard, which will continue to be based at Associated's Kensington HQ.

Andrew Mullins, the managing director of the Evening Standard, and Simon Davies, its ad director, are likely to be retained in senior roles.

Reports suggest that Geordie Greg, the editor of Tatler, will be installed as editor or editor-in-chief of the title.

The impact on the ad market is likely to minimal as Associated had already taken steps to split ad sales of the Standard out from a joint commercial team with its London freesheet London Lite.