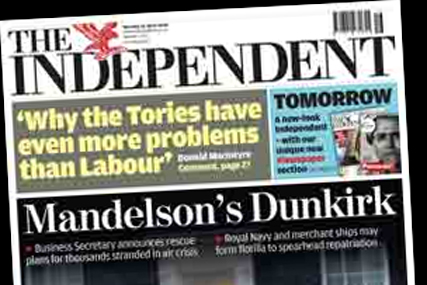 The new-look title will feature a new pullout section called The Viewspaper, as part of a radical redesign of the paper as it looks to pull in fresh readers and advertisers.

The redesign has been presided over by Freuds PR, which has been working on it for months. Simon Kelner, who is returning to edit the paper after a stint as managing director, was not involved in the redesign.

The Independent, unlike its broadsheet rivals, will continue to adhere to distributing bulk copies, as a sampling and marketing exercise.

The paper will maintain its £1 cover price – for the near future – as no decision has been made as to whether to go free with the title, according to a report in The Guardian.

Lebedev made the decision to axe the 50p cover price of his other UK newspaper in his stable, The London Evening Standard, last year.

According to the latest set of audited figures, The Independent registered a circulation of 184,137 in March, up 0.32% on the previous month, but down 10.31% on the year.

More than 53,000 of its headline circulation figure was made of bulk copies.

The new-look newspaper is to be supported by a campaign created by Trevor Beattie's agency BMB.